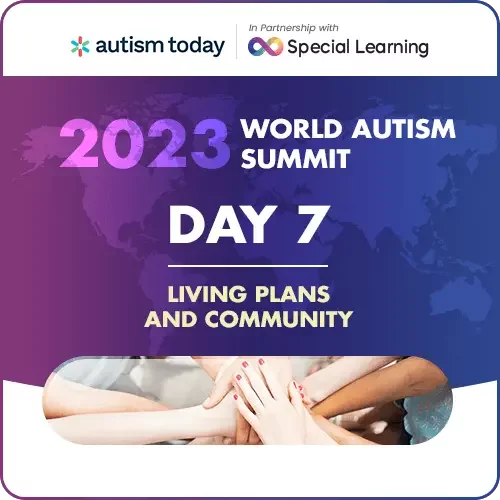 Community Resilience and Living Plans: Day 7 Interview Bundle

You could be the first person to provide your opinion.
Purchase now & provide your feedback on this product and receive a $25 store credit!

Interview 1: The Louise Masin Sattler Emergency Kit
Presented by Louise Masin Sattler

Prepare for the unexpected with the "Ultimate Emergency Preparedness Kit." In a world riddled with natural disasters, unforeseen crises, and unique challenges, this interview offers a comprehensive solution to ensure the safety and well-being of your family. Discover essential items, communication tools, safety devices, and community engagement strategies that will help you be ready for any emergency.

Interview 2: Moish Tov's Autism Empowerment: JoyDew's Transformative Solution
Presented by Moish Tov

Embrace the power of communication and strengths with Moish Tov's inspirational journey. JoyDew's "Autism 3.0" approach challenges conventional wisdom and focuses on nurturing the unique strengths of individuals with autism. Explore their vision of creating an inclusive ecosystem that includes employment, education, housing, and healthcare, ultimately empowering individuals to lead fulfilling lives.

Interview 3: Jim Huth's EnvisionSpaces: Pioneering Inclusive Real Estate
Presented by Jim Huth
Join Jim Huth in redefining the way we design and interact with built environments. "EnvisionSpaces" is a groundbreaking initiative that emphasizes the power of human connection and embraces neurodiversity as a superpower. Discover how Jim's journey led to a more inclusive world and reimagined real estate as a platform for enhancing the lives of every individual.

Interview 4: Gary Hawkins' Nebs Initiative: Personalized Autism Care for All
Presented by Gary Hawkins

Autism knows no borders, and "Nebs" is a global solution to a global challenge. Gary Hawkins, a UK learning disability nurse, introduces an initiative to provide personalized care and placements for individuals with autism, intellectual disabilities, and more. Discover how "Nebs" aims to get individuals out of institutions and back into their communities, offering a better quality of care and support.

Interview 5: Richard Schreiber's Autism Innovation Ecosystem
Presented by Richard Schreiber

Technology is a powerful tool in transforming the lives of individuals with autism. Richard Schreiber's initiative focuses on creating an innovation ecosystem that connects, consolidates, and transforms the world of autism support. Explore the impact of technology in reaching communities worldwide and the vision of a brighter future for those on the autism spectrum.

Interview 6: Empowering Lives with Giri Puligandla
Presented by Giri Puligandla

Giri Puligandla, an advocate for neurodiversity and mental health, shares his passion for creating a world of inclusion and empowerment. Discover his journey into the Canadian Mental Health Association and his commitment to fostering understanding between diverse communities. Explore the power of innovation and technology in supporting individuals with autism worldwide.

Interview 7: The Power of Resilience: Rajeev Nirmalakandan's "The Oddway Home
Presented by Rajeev Nirmalakandan
Rajeev's inspiring story transcends borders and resonates with anyone who has ever felt marginalized or isolated. He channeled his adversity into art, discovering hidden strengths and nurturing his talents. "The Oddway Home" is a cinematic masterpiece that challenges stereotypes and showcases the strength, courage, and vibrancy of individuals with autism. Rajeev's mission is to empower individuals to overcome adversity, find their hidden potential, and ignite their confidence and courage.

Interview 8: Empowering Families Worldwide: Mary Ann Hughes' "Special Families Transitions
Presented by Mary Ann Hughes

Divorce with special-needs children is a challenge faced by families worldwide. "Special Families Transitions" is a lifeline for those navigating the intricate landscape of divorce with children requiring specialized care. Mary Ann Hughes, a certified divorce coach, offers expert guidance, navigational tools, and collaboration to protect your child's best interests. This resource is universally applicable, equipping parents with the tools to face this life-altering transition.

Interview 9: Understanding Autism in Grief: Kate Martell's "Guiding Hearts" Program
Presented by Kate Martell

End-of-life transitions are a significant aspect of life that often goes unaddressed for individuals with autism. "Guiding Hearts" is a comprehensive and empathetic program designed to assist individuals with autism, their families, and caregivers in coping with end-of-life transitions. It offers insights into autism's unique perspective during this sensitive journey, emotional support, communication tools, and ways to create meaningful connections.
For cancellations and refunds, please see our policy HERE.
No reviews yet!
For adding a review for this product you need to purchase current product and be authorized.