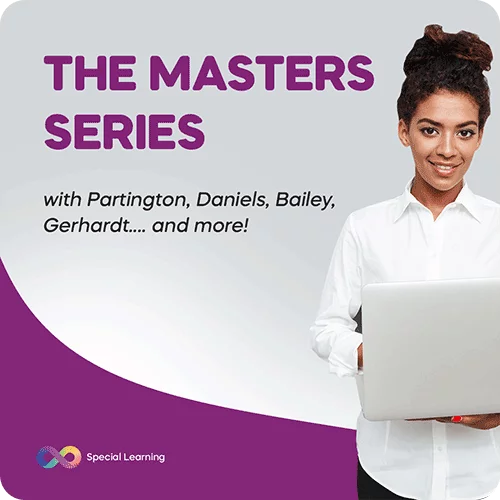 You could be the first person to provide your opinion.
Purchase now & provide your feedback on this product and receive a $25 store credit!

BCBA CEUs: 18 CEUs (14 General, 2 Ethics and 2 Supervision)
18 APA CEUs
18 QABA CEUs (14 General, 2 Ethics and 2 Supervision)
Imagine being able to learn directly from leading experts and trailblazers from the fields of ABA, OBM, Psychology, and Medicine. Other than listening to experts of this caliber speak at various industry conferences, most people rarely get an opportunity to learn in-depth from Dr. Jon Bailey (ethics), Dr. Peter Gerhardt (transition), Dr. Ronnie Detrich (challenging behaviors in schools), Dr. Jim Partington (ABLLS and and Language), Dr. Aubrey Daniels (OBM), Dr. Ronald T. Brown (ADHD and Psychopharmacology) and Dr. Debbie Coehlo (ADHD, Psychopharmacology and Mental Health).
With our Masters Series CE Library, you now have an opportunity to add to your knowledge base by learning directly from these industry experts on very diverse topics (including ethics and supervision). This 18-hour sampler collection has been created from the live training webinar trainings that we have conducted with these distinguished experts to allow you the opportunity to expand your knowledge and earn your CEs from the comfort of your own home.
The titles include:
MANDATORY DISCLAIMER: The Behavior Analyst Certification Board ("BACB") does not sponsor, approve or endorse Special Learning, the materials, information, or sessions identified herein.
For cancellations and refunds, please see our policy HERE.
No reviews yet!
For adding a review for this product you need to purchase current product and be authorized.