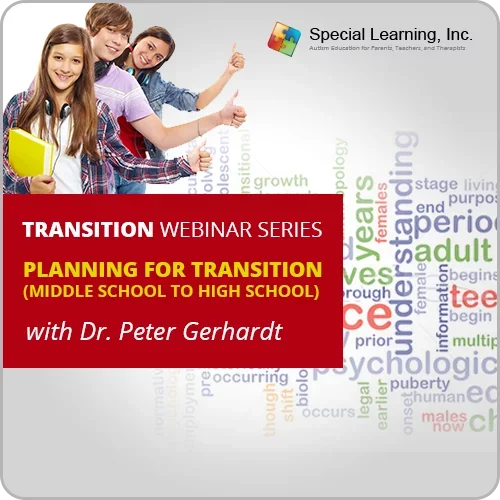 CEU: Planning for Transition- Middle School to High School w/ Dr. Peter Gerhardt

You could be the first person to provide your opinion.
Purchase now & provide your feedback on this product and receive a $25 store credit!

BCBA CEUs: 4- Type II, BACB General
QABA CEUs: 4- General
Description: This webinar was presented by Dr. Peter Gerhardt, Ed.D, and guest panelists. During this session, we covered critical elements adolescents and adults with autism, as well as parents, teachers, and professionals involved in shaping their future, face during major transition phases.
During this 4hr session of our Planning for Transition (Middle School & High School Transitions), we explored the following areas:
Reviewed the Transition Framework Model
Identified main transition phases and benefits of developing and implementing a high-level transition life plan
Discussed main considerations to address during Middle School and High School Transition
Reviewed how to plan for the transition from Middle School to High School, including what needs to be addressed & by whom?
Discussed appropriate timeframe to change focus from academic to independent living skills and identification of critical skills
Discussed benefits of identifying and incorporating daily living skills during the early intervention (elementary school)
Reviewed the key elements of a well-written transition IEP and how to run an effective IEP meeting

TIMELINE: This course, on it's own has a license for active use for 30-days unless it is purchased as part of a bundle/library.
MANDATORY DISCLAIMER: The Behavior Analyst Certification Board ("BACB") does not sponsor, approve, or endorse Special Learning, the materials, information, or sessions identified herein.
NOTE: CE's claimed on any training completed can only be claimed once. If you repeat training you've already claimed CEs on, you won't be able to claim the CEs again. Please ensure you have not already completed and claimed the CEs for the training module before purchase. Want to customize your training? You can build your own CE library HERE. For cancellations and refunds, please see our policy.
No reviews yet!
For adding a review for this product you need to purchase current product and be authorized.