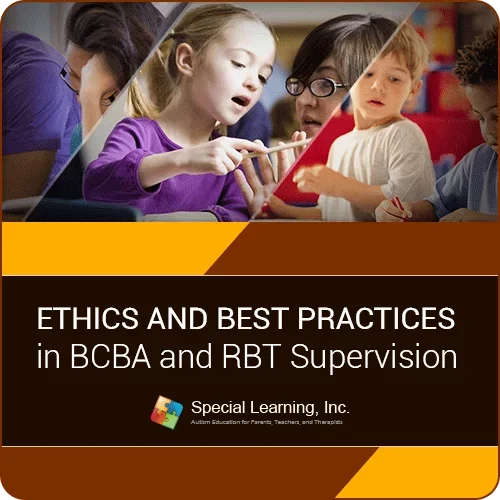 CEU: Ethics and Best Practices in BCaBA & RBT Supervision

You could be the first person to provide your opinion.
Purchase now & provide your feedback on this product and receive a $25 store credit!

BCBA CEUs: 3 Learning, Ethics or Supervision
QABA CEUs: 3 General, Ethics or Supervision
This practical training is designed to introduce clinicians to best practices (and not such great practices) in supervision currently in use by behavior analysts. In addition to core content, this training incorporated reviews of case scenarios submitted by BCBAs.
Topics covered include:
Review of Ethics Code 5.0: Ethics of Supervision in the Field of Behavior Analysis
Short-term and long-term Implications of supervision practices
Barriers to effective supervision
Review of current supervision practices
Best practice model for BCBA / BCaBA and RBT Supervision
Considerations when providing supervision
Review of BCaBA supervision requirement
Review of RBT supervision requirement
TIMELINE: This course, on its own has a license for active use for 30 days unless it is purchased as part of a bundle/library.
MANDATORY DISCLAIMER: The Behavior Analyst Certification Board ("BACB") does not sponsor, approve, or endorse Special Learning, the materials, information, or sessions identified herein.
NOTE: CEs claimed on any training completed can only be claimed once. If you repeat training you've already claimed CEs on, you won't be able to claim the CEs again. Please ensure you have not already completed and claimed the CEs for the training module before purchase. Want to customize your training? You can build your own CE library. See our main page! For cancellations and refunds, please see our policy.
No reviews yet!
For adding a review for this product you need to purchase current product and be authorized.