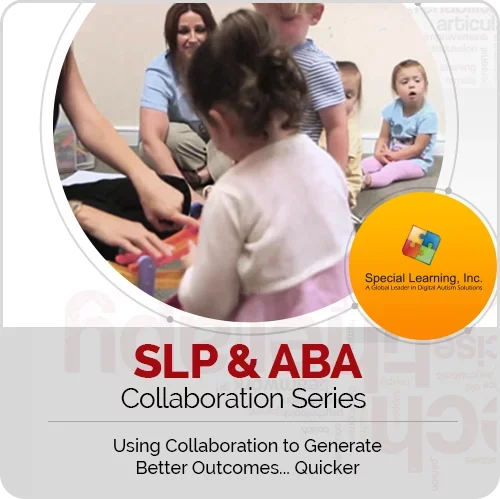 CEU: SLP & ABA Collaboration: Using Collaboration to Generate Best Outcomes... Quicker

You could be the first person to provide your opinion.
Purchase now & provide your feedback on this product and receive a $25 store credit!

BCBA CEUs: 2- Type II, BACB General
QABA CEUs: 2- General
APA/CESA: 2 General (Home Study)
Description: SLPs and BCBAs each bring a skill set for working to increase communication in children with Autism however, they often look at verbal behavior through a different lens. SLPs view all topographies of communication and give as much language as possible to the child while BCBAs focus on replacing undesired behaviors and selecting and teaching measurable language behaviors. By understanding the training, education, and competencies of each discipline, therapists will gain greater abilities to work as part of the team toward the best outcomes for the child. Executed properly, Inter-professional Collaboration will provide our clients with better outcomes faster and improve the quality of life of the clients and families.
Presenters: Melanie Olson Giles, M.Ed., MA, CCC-SLP; Jennifer Rumfola, MA, CCC/SLP, BCBA, LBA ; Noor Y. Syed, Ph.D., BCBA-D, NYS LBA
Learning Outcomes:
Define the science/purpose of Applied Behavioral Analysis as a professional discipline in helping children with language delays.
Define the science/purpose of Speech-Language Pathology as a professional discipline in helping children on the autism spectrum.
Identify the responsibilities and ethical considerations of collaboration with team members.
Identify the responsibility and opportunities for supervisors to incorporate collaboration in supervision programs.
Explain the use of ICF-CY [International Classification of Functioning for Children and Youth] in the diagnosis and treatment of children with language and/or behavioral needs.
Demonstrate skills for values and benefits of collaboration for disciplines and clients.
TIMELINE: This course, on its own has a license for active use for 30-days unless it is purchased as part of a bundle/library.
MANDATORY DISCLAIMER: The Behavior Analyst Certification Board ("BACB") does not sponsor, approve, or endorse Special Learning, the materials, information, or sessions identified herein.
NOTE: CEs claimed on any training completed can only be claimed once. If you repeat training you've already claimed CEs on, you won't be able to claim the CEs again. Please ensure you have not already completed and claimed the CEs for the training module before purchase. Want to customize your training? You can build your own CE library. See our main page!. For cancellations and refunds, please see our policy.
No reviews yet!
For adding a review for this product you need to purchase current product and be authorized.