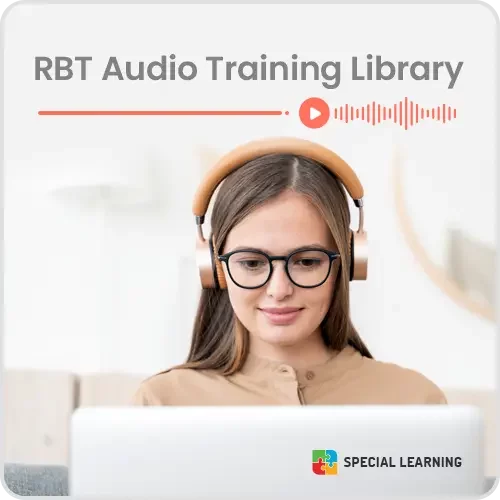 RBT Audio Training Library
Need to access RBT trainings but don't have the time to commit to watching computer-based webinars?
Special Learning has you covered with our Audio RBT Training Library. Get access to all the same great content you will find in our RBT 2.0 Online Course in a convenient audio-only format. Now your trainings can be just as "on the go" as you are!
Applied Behavior Analysis (ABA) is proven to have the highest rate of success in treating Autism Spectrum Disorders (ASD). The best way to learn about ABA is to listen to highly trained professionals who have extensive experience and knowledge of the principles and methods of Applied Behavior Analysis.
Through its unique virtual set-up, Special Learning's RBT Training Library offers:
• Convenient access to training through audio format right from your computer, tablet or mobile device
• Comprehensive training on the methods and techniques of ABA
This RBT Training Libray includes the following:
Module 1: ABA Overview
Module 2: Section F (Part I)- Role of an RBT® and Career Advancement
Module 3: Comprehensive Overview of ABA Techniques - Back to the Basics
Module 4: Section A (Part 1)-Measurement- The Science and Driving-Force of ABA
Module 5: Section A (Part 2)-Measurement- Without Data and Analysis . . .It Does Not Exist
Module 6: Section E- Documenting and Reporting- CART: Confidentiality, Accountability, Reliability, and Trustworthy
Module 7: Section B (Part 1)- Assessment - The Starting Point of a Successful ABA Program
Module 8: Section B (Part 2)- Assessment- Remove the Assumption and Identify the Function
Module 9: Section F (Part 2)- Review of the RBT® Ethics Code
Module 10: Section F (Part 3)- RBT® Ethics & Scenarios Q & A with Dr. Bailey, BCBA-D
Module 11: Section D (Part 1)- Behavior Reduction- Introduction to Problem Behaviors
Module 12: Section D (Part 2)- Behavior Reduction- Using Evidence-Based Techniques to Change the MO & Decrease Problem Behaviors
Module 13: Section D (Part 3)- Behavior Reduction- Implementing Reinforcement while Decreasing Problematic Behaviors
Module 14: Section D (Part 4)- Behavior Reduction- Severe Problem Behavior and Scenarios
Module 15: Section C (Part 1)- Skill Acquisition- Intro to Skill Acquisition
Module 16: Section C (Part 2)- Skill Acquisition- Teaching the Way the Student Learns
Module 17: Section C (Part 3)- Skill Acquisition- From Table-time to the Real-world
Module 18: Section C (Part 4)- Skill Acquisition- Building and Teaching Complex Skills
Module 19: Section C (Part 5)- Skill Acquisition- Visuals and Prompting
Module 20: Transition in Practice Series with Dr. Peter Gerhardt: Planning for Transition (Middle School to High School)
Module 21: Implementing Programming
Each webcast is 1.5 to 2 hours in length.
Group Pricing Available. For information on group and pricing contact us at training@special-learning.com
Please be advised that this product is not downloadable.
DISCLOSURE:
Financial - Presenters are employees of Step By Step, Special Learning's strategic partner. Presenters and researchers do not receive any financial compensation.
Non-Financial - No relevant non-financial relationships exist. Special Learning, publisher of products for SLPs, BCBAs, and other professionals, and Step By Step funded this training webcast.
For cancellations and refunds, please see our policy HERE.
No reviews yet!
For adding a review for this product you need to purchase current product and be authorized.