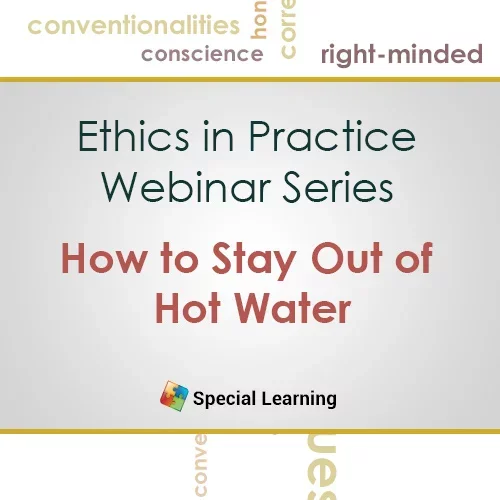 CEU: Ethics- How to Stay Out of Hot Water

You could be the first person to provide your opinion.
Purchase now & provide your feedback on this product and receive a $25 store credit!

BCBA CEUs: 2 Learning or Ethics
QABA CEUs: 2 General or Ethics
Description: Special Learning presents Dr. Jon Bailey, Director of the FSU Panama City Masters Program in Applied Behavior Analysis and co-author of Ethics for Behavior Analysts, in the second installment of this ethics webinar series. In this presentation, Dr. Bailey discussed common ethical code violations that were reported to the BACB. He also discussed ethical scenarios and how to determine the seriousness of code violations. Dr. Bailey addressed current procedures for reporting violations to the BACB and discussed ways to deal with perceived violations that may be observed in the workplace. Attendees had the opportunity to ask questions or present ethical scenarios to Dr. Bailey and received his expert feedback.
Learning Objectives:
Participants will know the history of the Professional and Ethical Compliance Code content.
Participants will understand differences in applying the code in an agency versus individual practice.
Participants will understand the proper way to deal with perceived violations.
Participants will have an understanding of potential ways to improve the current methods for reporting code violations.
Participants will understand when it is appropriate to decline services or requests.
Participants will know common ethical violations or issues that are reported to the BACB.
TIMELINE: This course, on its own has a license for active use for 30-days unless it is purchased as part of a bundle/library.
MANDATORY DISCLAIMER: The Behavior Analyst Certification Board ("BACB") does not sponsor, approve, or endorse Special Learning, the materials, information, or sessions identified herein.
NOTE: CEs claimed on any training completed can only be claimed once. If you repeat training you've already claimed CEs on, you won't be able to claim the CEs again. Please ensure you have not already completed and claimed the CEs for the training module before purchase. Want to customize your training? You can build your own CE library HERE. For cancellations and refunds, please see our return policy.
No reviews yet!
For adding a review for this product you need to purchase current product and be authorized.