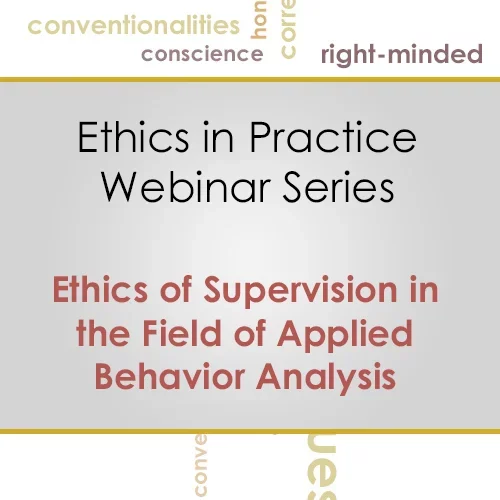 CEU: The Ethics of Supervision in Applied Behavior Analysis

You could be the first person to provide your opinion.
Purchase now & provide your feedback on this product and receive a $25 store credit!

BCBA CEUs: 2 Learning, Ethics, or Supervision
QABA CEUs: 2 General, Ethics or Supervision
In the third installment of our Ethics in Practice Training series, we reviewed Section 5 of the Professional and Ethics Compliance Code. Using 5.0 Behavior Analysts as Supervisors as a framework, we looked beyond the actual code to discuss the necessity of Supervisors to strive for excellence at all times, and the consequences in the field of behavior analysis when professionals charged with carrying forward the profession fail to carry out their responsibilities in these following areas:
Supervisory Competence
Supervisory Volume
Supervisory Delegation
Designing Effective Supervision and Training
Communication of Supervision Conditions
Providing Feedback to Supervisees
Evaluating the Effects of Supervision
Using an experiential format, we used real-life examples and case scenarios in order to maximize learning outcomes for all participants. Throughout this session, we identified "best practices" and "poor practices" so that we can work towards creating a rule-based, data-driven, best practices system of supervision.
Learning Outcomes Include:
Participants will understand the role of a supervisor.
Participants will understand the ethical responsibilities of a supervisor and supervise.
Participants will learn what is meant by a "competent supervisor."
Participants will be aware of ethical situations that may arise during supervision and how to handle those situations in an ethical manner.
TIMELINE: This course, on its own has a license for active use for 30 days unless it is purchased as part of a bundle/library.
MANDATORY DISCLAIMER: The Behavior Analyst Certification Board ("BACB") does not sponsor, approve, or endorse Special Learning, the materials, information, or sessions identified herein.
NOTE: CEs claimed on any training completed can only be claimed once. If you repeat training you've already claimed CEs on, you won't be able to claim the CEs again. Please ensure you have not already completed and claimed the CEs for the training module before purchase. Want to customize your training? You can build your own CE library HERE. For cancellations and refunds, please see our return policy.
No reviews yet!
For adding a review for this product you need to purchase current product and be authorized.