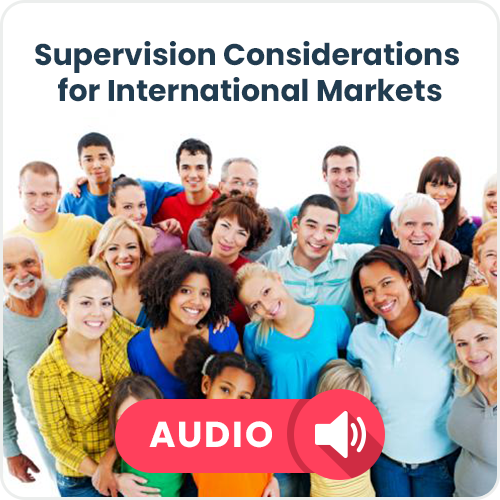 Audio Supervision Considerations for International Markets
LEVEL: Advanced
CEU ELIGIBILITY:
3 BACB Learning or Supervision CEU
3 QABA CEU
Need to access CEUs but don't have the time to commit to watching computer-based webinars?
Special Learning has you covered with our webinar. Get access to great content in a convenient audio-only format. Now your CEUs can be just as "on the go" as you are!
This audio webinar, entitled, Supervision Considerations for International Markets will review how the current condition – a critical shortage of International BCBAs – is affecting the availability and quality of supervision being provided to BCBA candidates, BCaBAs, and RBTs outside the U.S. We will provide a brief review of Section 5.0 of the BACB Ethics Code and examine required modification to the code, reasons behind the modifications, and short-term and long-term implications to the field.
Is it well known that in International markets ethics-related issues are rampant? A severe lack of resources and limited understanding of ABA pose significantly greater challenges than in the U.S., the most severe of those being financially-driven predatory behavior. With our panelists, we will review real ethical scenarios submitted by International BCBAs and engage in a dialogue about the impact on the quality of care given current market conditions. We will close by discussing the realities faced by International BCBAs and the frequent need to choose between providing direct services versus providing supervision for the next generation of BCBAs.
Each purchase corresponds to 1 user license/access. Only the user assigned to a subscription will be able to access the training and obtain CEUs from the webinars.
The license/Access code can be activated within 3 months from the time of purchase.
You have 30 days to access the webcast from the date you activated your access code.
Please be advised that this product is not downloadable.
MANDATORY DISCLAIMER: The Behavior Analyst Certification Board ("BACB") does not sponsor, approve or endorse Special Learning, the materials, information, or sessions identified herein.
For cancellations and refunds, please see our policy HERE.
No reviews yet!
For adding a review for this product you need to purchase current product and be authorized.