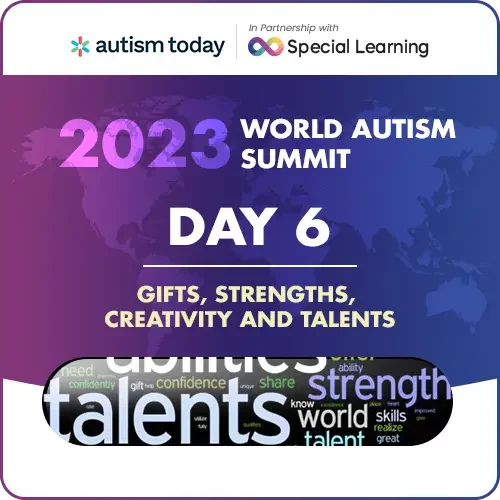 Radiance in Differences: Unveiling Talents and Creativity" - Day 6 Interview Bundle

You could be the first person to provide your opinion.
Purchase now & provide your feedback on this product and receive a $25 store credit!

Interview 1: Taylor Duncan - Revolutionizing Community Integration Through Alternative Baseball
Presenter: Taylor Duncan
Summary: Taylor Duncan's groundbreaking organization, Alternative Baseball, is reshaping community integration through the world of sports. He shares his unwavering determination to challenge stereotypes and preconceived notions that often limit those with autism. Alternative Baseball goes beyond traditional sports, focusing on skill development, character building, and social growth, instilling optimism and helping individuals realize their full potential.

Interview 2: Elaine Hall - "Impact: Autism Acceptance Through Creativity
Presenter: Elaine Hall
Summary: Elaine Hall's inspirational journey began as a film acting coach, but it took an extraordinary turn when she adopted a little boy from Russia who was non-speaking and severely autistic. She developed a unique methodology that celebrates the gifts and talents of each individual, emphasizing that every step, no matter how "different" it may seem, is a significant win. Her work with the Miracle Project and her advocacy for neurodiversity in the media and entertainment industry has left an indelible mark on the world of autism acceptance.

Interview 3: Veronica Cartwright - Empowering Insights on Autism: A Comprehensive Guide
Presenter: Veronica Cartwright
Summary: The Autism Empowerment Collection celebrates the strengths and talents of individuals with autism. This comprehensive guide offers resources for artistic expression, sensory enrichment, career development, education, and community support. Veronica Cartwright's insights and the curated selection of products and services cater to the unique abilities and interests of those on the autism spectrum.

Interview 4: Andrew & Michelle Preston - Journey: Autism, Love, and Growth
Presenter: Andrew & Michelle Preston
Summary: Andrew and Michelle Preston's love story is a testament to the power of authenticity and resilience in neurodiverse relationships. Their relationship course offers valuable insights into building stronger, more resilient partnerships. Through their book, Unlocking the Power of Autism and Relationships," they share their journey from friends to partners, offering valuable lessons on mutual support and celebrating the uniqueness of every individual.

Interview 5: Ellen Gerstein - "Unlocking the World of Acting: Insights from Ellen Gerstein
Presenter: Ellen Gerstein
Summary: Ellen Gerstein's journey in the world of entertainment is a testament to the power of passion and determination. As an actor, director, screenwriter, and producer, she champions diversity and representation in the arts. Ellen's coaching philosophy empowers individuals with neurodiverse needs to thrive in the world of acting. Her work extends beyond the glitz and glamour of Hollywood; she's a true advocate for diversity and inclusion.

Interview 6: EASE Group - Empowering Autism Education Through the Arts
Presenter: EASE Group
Summary: The EASE Group's multi-arts professional development program integrates the arts into everyday learning experiences, fostering academic and social-emotional development for students of all abilities. Their foundation in evidence-based learning and the four pillars of EASE (Know What's Important, Notice, Use, and Create, One Thing at a Time, Wait and See What Happens) emphasize the importance of creating a supportive and engaging learning environment.

Interview 7: Jennifer Buchanan - Path to Wellness Through Music
Presenter: Jennifer Buchanan
Summary: Jennifer Buchanan, a distinguished music therapist, explores the healing power of music and offers a nuanced approach to harnessing its therapeutic potential. Her deep love for music therapy and her commitment to helping individuals access emotional support and pain management through music makes her a true visionary and leader in the world of therapeutic arts.

Interview 8: Dr. Ian Hale - Embrace Neurodiversity with Dr. Ian Hale: 'On the Spectrum
Presenter: Dr. Ian Hale
Summary: Dr. Ian Hale's transformative work, "On the Spectrum," redefines diversity and expands the conversation beyond autism to a broader spectrum of conditions. He shares his personal journey and experiences, advocating for neurodiversity and encouraging individuals and families to embrace the unique strengths and abilities of those on the spectrum. Join him in celebrating the beauty of neurodiversity and understanding its significance.
For cancellations and refunds, please see our policy HERE.
No reviews yet!
For adding a review for this product you need to purchase current product and be authorized.