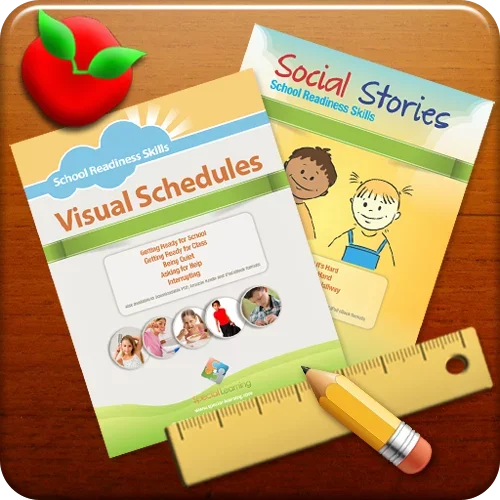 Building Basic Social Skills and Visual Schedule Curriculum Bundle

You could be the first person to provide your opinion.
Purchase now & provide your feedback on this product and receive a $25 store credit!

Prepare your child for success in daily school routines with the Special Learning downloadable School Readiness Skills Teaching Tool Kit. We have bundled two of our most effective teaching tools together, social stories and visual schedules, to help teach children with autism spectrum disorder (ASD) the appropriate social skills to integrate successfully into their environment.

Visual schedules are graphic supports that are used to assist children with autism in transitioning between activities, completing sequential tasks, and structuring independent learning.
The set includes Social Skills Curriculum and Visual Schedule Curriculum.
Visual Schedule Titles include:
Getting Ready for School
Getting Ready for Class
Being Quiet
Asking for Help
Interrupting
Social Stories Titles include:
Saying Hi
Saying Goodbye
Saying Thank You
Asking for Help
Using a Tissue
Each book is coded by skill(s) and age to help you determine the most appropriate set to use for your own child.
The product is available in a Digital downloadable format.
Note: This product is DOWNLOADABLE ONLY. The purchase does not include hard copies.
For cancellations and refunds, please see our policy HERE
No reviews yet!
For adding a review for this product you need to purchase current product and be authorized.