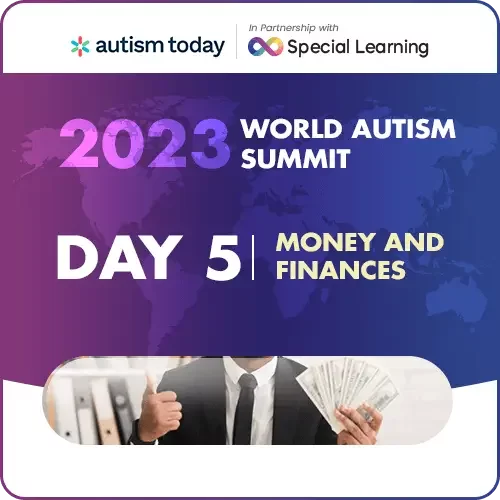 Navigating the Financial Landscape: Day 5 Interview Bundle

You could be the first person to provide your opinion.
Purchase now & provide your feedback on this product and receive a $25 store credit!

1. Melissa Shea's Financial Freedom: A Path for Neurodiverse Families
Presenter: Melissa Shea
Summary: Melissa Shea shares invaluable insights and strategies to support families dealing with the financial implications of raising children with neurodiverse needs. Learn about "Legacy Wealth Builders," a comprehensive financial empowerment program that offers real estate strategies for passive income, residual income, legacy planning, and practical solutions for financial challenges.

2. Unlocking Financial Freedom with Stephen Sicoli: A Neurodiverse Perspective
Presenter: Stephen Sicoli
Summary: Stephen Sicoli, a compassionate leader, discusses the pressing need to help individuals with autism take control of their lives. He emphasizes shifting mindsets and provides practical insights on financial freedom, global relevance, financial pitfalls to avoid, and available programs for individuals with disabilities.

3. Michael Ringel's Guide to Purposeful Financial Planning for Autism Families
Presenter: Michael Ringel
Summary: Michael Ringel, a visionary financial planner, is dedicated to guiding families to achieve financial security. His Visionary Financial Planning Program focuses on protection, cash flow, and purpose-driven abundance. It offers tailored financial strategies for individuals with autism, ensuring their well-prepared financial future.

4. Navigating a New World: Alex Buckles Introduces Pathways for Autism
Presenter: Alex Buckles
Summary: Alex Buckles founded Pathways for Autism, a groundbreaking initiative designed to unlock the potential of neurodiverse individuals. It emphasizes neurodiverse hiring and supporting financial futures, ensuring that individuals with autism can lead financially secure lives.

5. Tarita Davenock's Guide to Autism-Friendly Travel
Presenter: Tarita Davenock
Summary: Tarita Davenock's inclusive travel planning techniques prioritize the desires and dreams of individuals with Autism. Her approach fosters empowerment, encourages individual choices, and makes travel experiences unforgettable for neurodiverse individuals.

6. Discovering Mediation Excellence with Ronald Caissie: Transforming Conflict into Cooperation
Presenter: Ron Caissie
Summary: Ron Caissie's mediation approach centers on placing the welfare of children within neurodiverse families at the forefront. He fosters cooperation and mutual understanding, helping families resolve conflicts and make decisions that prioritize their children's well-being.

7. Inspiring Independence: Danny Bowman's Danimation Adventure
Presenter: Danny Bowman
Summary: Danny Bowman empowers individuals on the autism spectrum by harnessing the power of animation. Her Danimation Entertainment offers career development opportunities, promoting independence and self-sufficiency. Discover how animation can transform lives and create sustainable, independent paths.

8. Transforming Lives with Akiva: A Vision by Alex Landa
Presenter: Alex Landa
*Summary*: Alex Landa, co-founder of Akiva, offers an innovative learning platform that addresses financial barriers, resource scarcity, and progress tracking for autistic individuals. Explore Akiva's role in revolutionizing education for the neurodiverse community and creating a more inclusive future.
For cancellations and refunds, please see our policy HERE.
No reviews yet!
For adding a review for this product you need to purchase current product and be authorized.