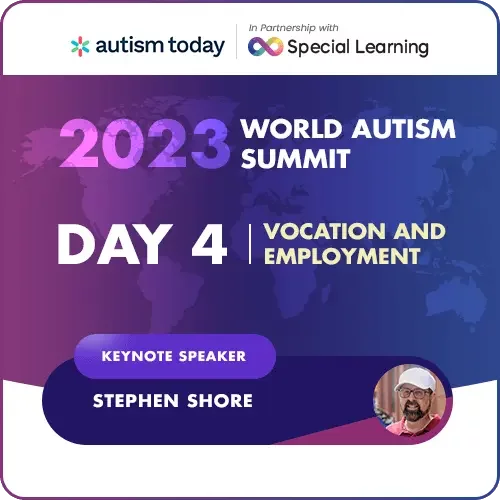 Pathways to Neurodiverse Success: Vocation, Employment Discussions, and the Journey Ahead - Day 4 Interview Bundle

You could be the first person to provide your opinion.
Purchase now & provide your feedback on this product and receive a $25 store credit!

1. The World of Autism Explored with Dr. Stephen Shore
- Presenter: Dr. Stephen Shore
- Dr. Stephen Shore, a remarkable individual with atypical developmental and strong autistic tendencies, shares his inspiring journey from a challenging diagnosis to becoming a full-time professor at Adelphi University and adjunct at NYU Steinhardt School of Culture, Education, and Human Development. Explore the Autism Empowerment Program's four pillars - Awareness, Acceptance, Appreciation, and Action - and how they are transforming the lives of autistic individuals worldwide.

2. Unlocking the Spectrum: Insights with Marsha Eckerd
- Presenter: Marsha Eckerd
- Marsha Eckerd, a trailblazer in the field of autism, presents her advocacy for recognizing autism in undiagnosed women. Discover the challenges women with autism face, including masking, and why a proper diagnosis can be life-changing. Marsha's work aims to change the narrative around autism and promote neurodiversity as a value proposition for businesses and organizations.

3. Driving Change with Nish Parikh's Autism Initiatives
- Presenter: Nish Parikh
- Nish Parikh, CEO and Chief Innovation Officer at Rangam, discusses the groundbreaking approach to neurodiverse employment. Learn how Rangam fosters a culture of inclusion within companies, emphasizing the importance of vocational rehabilitation. Explore the role of collaboration, the impact of globalization on autism support, and how technology can level the playing field for individuals with disabilities.
4. Empowering Autism with John Comegys' ClickBook: A Path to Success
- Presenter: John Comegys
- John Comegys, a seasoned Vocational Rehabilitation counselor, introduces the ClickBook, a guide to comprehensive autism employment. Delve into the importance of self-advocacy and modern technology integration in the workplace. Learn how ClickBook is changing the way we approach autism employment and creating opportunities for individuals with unique abilities.

5. Inspiring Change: A Conversation with Thomas Edwards
- Presenter: Dr. Thomas Edwards
- Dr. Thomas Edwards shares his journey to redefine neurodiverse employment as a value proposition for companies and organizations. Discover the power of relentless communication, the need to scale up efforts to create meaningful change, and the concept of puzzle-building leadership. Join the NeuroDiverse Excellence Movement and embrace a world of neurodiverse inclusion.

6. Neurodiversity at Work: A Guide by Dave Thompson
- Presenter: Dave Thompson
- Dave Thompson explores the Neurodiversity Employment Movement, highlighting the importance of creating inclusive workplaces. Learn about the Neuro Inclusion Marketplace, which unites service providers to support companies in fostering neuro inclusion. Join the movement to make your workplace a better place for everyone.

7. Bill MacDonald's AKA Systems Inc: Revolutionizing Autism Care
- Presenter: Bill MacDonald
- Bill MacDonald introduces AKA Systems Inc.'s transformative technology-driven platform for autism education and therapy. Explore how AKA's innovative approach empowers individuals and families living with Autism Spectrum Disorder. Discover the platform's accessibility, affordability, and revolutionary advancements, and how it's changing the landscape of autism care.

8. Mentra: A Game-Changer for Neurodiverse Inclusion - Conner Reingardt & Jhillika Kumar
- Presenters: Conner Reingardt & Jhillika Kumar
- Jelica Kumar and Connor Reingardt, founders of MENTRA, present their mission to empower neurodiverse individuals in the workforce. Learn about their vision to create a Neuro Inclusion Marketplace, where companies can access resources for creating inclusive workplaces. Join the global movement for neuro inclusion and be a part of a brighter, more inclusive future for all.
For cancellations and refunds, please see our policy HERE.
No reviews yet!
For adding a review for this product you need to purchase current product and be authorized.