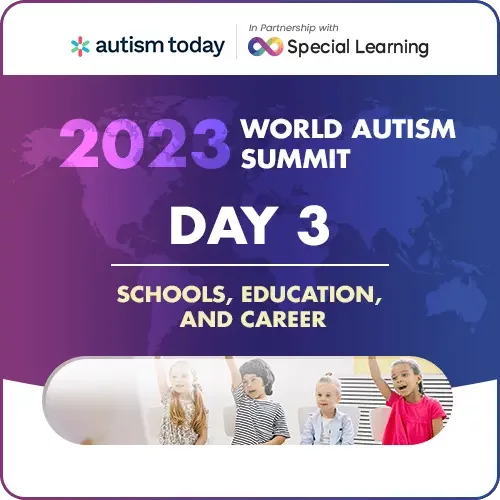 Empowering Adolescents: Transformative Discussions - Day 3 Interview Bundle

You could be the first person to provide your opinion.
Purchase now & provide your feedback on this product and receive a $25 store credit!

1. "Empowering Through Education: Kinsley Rausch-Dudzic's Vision for Autism"
- Presenter: Kinsley Rausch-Dudzic

Join us in a conversation with Kinsley Rausch-Dudzic, a passionate educator and Director of Development and Alumni Relations at Franklin Academy, dedicated to empowering neurodiverse students. Discover how recognizing strengths and weaknesses can lead to self-sufficiency and inclusive education. Learn about the importance of creating sensory-friendly environments and teaching essential skills beyond content.

2. "Exploring Neurodiversity with Jessica Stasik: A Path to Success"
- Presenter: Dr. Jessica Stasik

Dr. Jessica Stasik, a doctoral candidate in astrophysics, shares her inspiring journey as a neurodiverse individual. Explore her work in galactic archaeology, her role in the First Center for Autism Innovation, and her commitment to making a global impact in the neurodiversity movement. Gain insights into navigating graduate school as a neurodiverse student and the impact of late diagnosis on life and accommodations.

3. "Unlocking Success with Patty Beach: Leadership Alignment and More"
- Presenter: Patricia Beach

Patricia Beach, a respected expert in inclusive leadership, discusses the power of alignment and the "Vers Archy" in creating inclusive, innovative environments. Discover the Shua framework and its application in establishing effective relationships. Learn about the real-world applications of alignment, including supporting first-generation students in pursuing STEM degrees.

4. "Transforming Lives: Dr. Tim Conway's Neurodevelopmental Approach"
- Presenter: Dr. Tim Conway

Dr. Tim Conway, a clinical psychologist, and neuropsychologist, shares his 30-year journey in the field of neurodevelopmental disorders. Explore the significance of evidence-based science in empowering neurodiverse individuals. Learn how a comprehensive, transdisciplinary approach can strengthen foundational skills and empower individuals to function effectively.

5. "Empowering Autism Families: The Jonathan Alderson Thrive Guide"
- Presenter: Jonathan Alderson

Jonathan Alderson, founder of the Integrative Multi-Treatment Intervention Program for Autism, unveils the "Thrive Guide." Discover the Attitude of Advantage and Attitude Fitness, and how they impact communication. Learn about the multi-treatment approach and the importance of integrating various treatment methods effectively.

6. "Unlocking Potential with Rita Hernandez: A Deep Dive into Aspa"
- Presenter: Rita Hernandez

Rita Hernandez, founder and CEO of aspa.com, shares her journey as a neurodivergent individual. Explore her vision for a global platform fostering inclusivity and support for neurodiverse individuals. Discover the power of storytelling and the importance of breaking barriers and creating opportunities.

7. "Caroline Gaddy's Neurodiversity Empowerment: Toby DynaBox Unleashed"
- Presenter: Caroline Gaddy

Caroline Gaddy, a speech and language pathologist and AAC specialist, introduces Toby DynaBox, a speech-generating device empowering non-speaking individuals. Explore the impact of this transformative communication tool and its potential to enhance the lives of neurodiverse individuals.

8. "Unlocking Potential: Esther Thane's Approach to Autism Support"
- Presenter: Esther Thane

Esther Thane, an expert in music therapy, presents Exceptional Resources, a cloud-based platform that digitizes expertise and resources for neurodivergent individuals. Discover how this platform bridges the gap between experts and caregivers, providing access to comprehensive programs and assessments, ultimately leading to enhanced support for the autism community.
For cancellations and refunds, please see our policy HERE.
No reviews yet!
For adding a review for this product you need to purchase current product and be authorized.