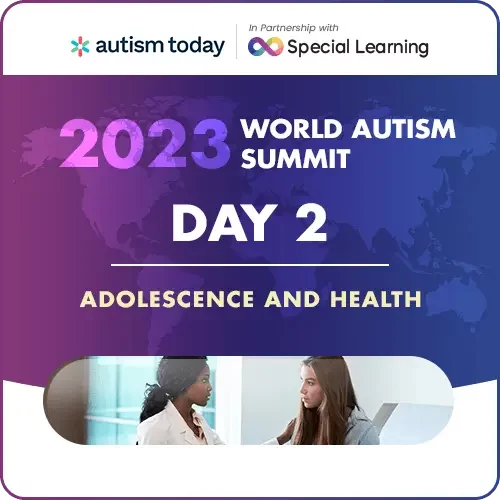 Empowering Adolescents: Vital Insights - Day 2 Interview Bundle

You could be the first person to provide your opinion.
Purchase now & provide your feedback on this product and receive a $25 store credit!

Interview 1: Empowerment through Neurodiversity: Insights from Chris Abildgaard
Presenter: Chris Abildgaard

In this enlightening interview, Chris Abildgaard, Ed.D., NCSP, LPC, NCC, shares his expertise and passion for empowering neurodiverse individuals. With a Doctorate in School Psychology and specialization in autism spectrum disorders, Chris is the Owner and Director of the Social Learning Center, based in Cheshire, Connecticut. He emphasizes the normalization of differences and the importance of mental health and education for neurodiverse students. As a parent of two neurodiverse children, Chris's insights offer a unique perspective on celebrating differences.

Interview 2: Revolutionizing Autism Care: Dr. Chris Bogner's Vision
Presenter: Dr. Chris Bogner

Dr. Chris Bogner, a distinguished figure in the realm of functional medicine, presents a groundbreaking approach to revolutionize autism care. Dr. Bogner's 16-year journey in the field, his focus on complete recovery for individuals with autism, and his innovative methods like "spelling to communicate" are highlighted. He emphasizes the power of listening to parents and caregivers and explores the potential connection between chronic cyanide poisoning and autism.

Interview 3: Empowering Autism Care: Giuseppe Rotolo's Innovative Approach
Presenter: Giuseppe Rotolo

Giuseppe Rotolo, Deputy Director of the First-Level Master in Integrated Treatment of Autism Spectrum Disorders at the University of Palermo, introduces two revolutionary books, "Functional Medicine for Autism: A New Perspective" and "Unlocking the Potential of Glutathione Therapy for Autism." His dedication to improving the lives of autistic children extends to creating a global network of professionals, offering an online Master's program, and introducing new methods and therapies.

Interview 4: Elevating Autism Care: Dr. Kingston's Revolutionary Diagnostic Innovations
Presenter: Dr. H.M. Skip Kingston

Dr. H.M. Skip Kingston, a PhD professor, leads a revolutionary approach to autism care with a focus on precise diagnostics and biomarker quantification. His innovative technology allows for minimal blood samples and real-time monitoring, enabling personalized treatments. He unveils the role of environmental toxins in autism and emphasizes the need to address root causes.

Interview 5: Unlocking Autism: Dr. Heilveil's Innovative Perspective
Presenter: Dr. Ira Heilveil

Dr. Ira Heilveil, a seasoned expert in Autism and Applied Behavioral Analysis, offers the "Heilveil Approach to Autism: A Holistic Path to Empowerment." He shares his holistic perspective, focusing on looking beyond traditional ABA techniques and promoting collaboration among professionals in the field. His approach is designed to empower individuals with autism and their families.

Interview 6: Pranjali Khairmode's Comprehensive Guide to Autism Wellness
Presenter: Pranjali Khairmode

Pranjali Khairmode, a dedicated physiotherapist and Vice President of the Board of Directors of Autism Today Foundation Canada, presents her holistic approach to autism wellness. Her program emphasizes sensory modalities, sensory integration, alternative therapies, and five essential lifestyle pillars to achieve overall wellness for individuals with autism.

Interview 7: Navigating Adolescence with Steve Den-Kaat: Self-Identity & Empowerment
Presenter: Steve Den-Kaat

Steve Den-Kaat, a renowned clinical psychologist, brings over two decades of experience in supporting neurodivergent adolescents. His program focuses on self-identity and self-esteem, with an emphasis on knowledge, self-knowledge, understanding differences, harnessing personal aspirations, and building trust and education.

Interview 8: Dr. Sveta Silverman's Guide to Vibrant Health and Well-Being
Presenter: Dr. Sveta Silverman

Dr. Sveta Silverman's mission is rooted in understanding why cells behave improperly and how to correct this behavior. She delves into the cellular connection and the importance of cellular metabolism, genetics, and environmental factors. Her approach highlights the power of "why" and aims to inspire individuals to make healthier choices.
For cancellations and refunds, please see our policy HERE.
No reviews yet!
For adding a review for this product you need to purchase current product and be authorized.