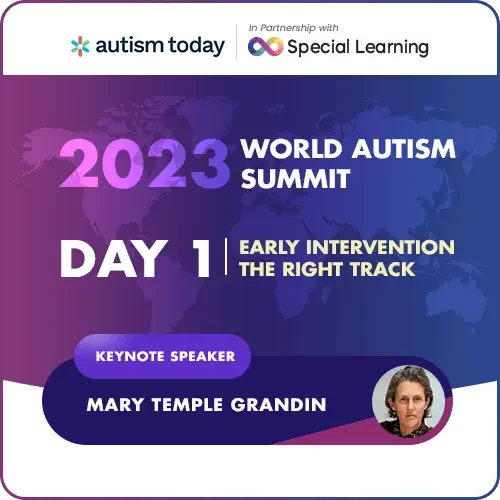 Early Steps to Autism Success: Day 1 Interview Bundle

You could be the first person to provide your opinion.
Purchase now & provide your feedback on this product and receive a $25 store credit!

1. Transform Your Bedroom for Optimal Health
Interview Title: Alan Kadish Presents: Your Path to PureLife in Your Bedroom
Presenter: Dr. Allan Kadish

In this enlightening interview, Dr. Allan Kadish delves into the often-overlooked aspect of our daily lives – our bedroom environment. With over 40 years of experience, Dr. Kadish specializes in complex health cases and has successfully used both conventional and alternative approaches for diagnostics and therapeutics, especially for individuals with Autism and pervasive developmental delays. Discover how your bedroom can become a haven for optimal well-being as Dr. Kadish explores pillows, pillowcases, mattresses, bedding, flooring, and vacuum cleaners for a safe and comfortable sleep environment.

2. Revolutionize Early Intervention with NRF
Interview Title: "Changing the Landscape of Autism Support: Dr. Carole Anne Hapchyn's Vision"
Presenter: Dr. Carole Anne Hapchyn

Dr. Carole Anne Hapchyn, an infant and early childhood psychiatrist, introduces the Neuro-Relational Framework (NRF) in this groundbreaking interview. With a mission to reduce toxic stress and enhance the quality of life for individuals with autism and neurodiverse needs, Dr. Hapchyn outlines five paradigm shifts within the NRF, focusing on creating safety, nurturing relationships, and matching the child's neurodevelopment for optimal growth and learning.

3. Enhance Brain Health with NeuroVitalize
Interview Title: "Unlocking Potential: Dr. Chris Meletis Introduces NeuroVitalize"
Presenter: Dr. Chris Meletis

Dr. Chris Meletis, a distinguished naturopathic physician, shares his extensive knowledge in this exclusive interview. He introduces NeuroVitalize, a revolutionary product designed to enhance brain performance and unlock the hidden potential of individuals with Autism and neurodiverse needs. Dr. Meletis delves into the core of NeuroVitalize, emphasizing the role of mitochondria, sleep, oxygen, and brain health, offering a holistic approach to improving cognitive function and overall well-being.

4. Empower Your Child on the Autism Spectrum**
*Interview Title:* "Karen Chung's Approach to Parenting Success in Autism"
*Presenter:* Karen Chung

Karen Chung, an expert in Applied Behavior Analysis (ABA), provides a comprehensive approach to autism intervention. She emphasizes the importance of setting high expectations for children on the autism spectrum, diversifying the range of interventions beyond ABA, and understanding the diverse thinking styles among individuals with autism. Discover the evolving landscape of ABA and the importance of selecting methods aligned with individual needs and goals.

5. Celebrate the Spectac Star and Karen Simmons' Vision
Interview Title: "Autism Today's Karen Simmons: Pioneering Empowerment with the Spectac Star"
Presenter: Karen Simmons

Karen Simmons shares her remarkable journey as a mother of seven, including a child with autism. She emphasizes the importance of embracing the diversity within the autism spectrum, shifting attitudes, and empowering individuals to lead fulfilling lives. Learn about the World Autism Summit 2023, where over 80 speakers and panelists unite to promote acceptance, understanding, and the power of the Spectac Star symbol, which celebrates the unique talents and strengths of individuals with autism.

6. Unleash the Hidden Potential of Autism and Neurodiversity
Interview Title: "Mary Temple Grandin's Guide to Unlocking the Potential of Autism and Neurodiversity"
Presenter: Dr. Temple Grandin

Dr. Temple Grandin, a renowned autism advocate, shares her profound insights in this interview. She emphasizes the value of early intervention, recognizing diverse thinking styles among individuals with autism, and fostering strengths. Dr. Grandin's journey through autism, from early intervention to navigating adolescence, offers invaluable guidance for families and professionals. Discover her unique perspective and the power of embracing differences in individuals with autism.

7. The Autism Toilet Training Handbook: A Lifesaver
Interview Title: "From Challenges to Triumph: Mary Wrobel's Autism Toilet Training Handbook"
Presenter: Mary Wrobel

Mary Wrobel, a retired teacher and speech and language pathologist, addresses the complexities of toilet training for children with autism. She identifies the major hurdles faced in this process – change, motivation, behavior, and anxiety – and provides insights into communication, medical considerations, sensory sensitivities, and anxiety management. Learn how schools have succeeded in toilet training and how early intervention plays a crucial role in helping families navigate this essential life skill.

8. Embrace the Power of Humanistic AI in Autism Support
Interview Title: "Innovative Autism Support with Dr. Michael Cameron's Humanistic AI Expertise"
Presenter: Dr. Michael Cameron

Dr. Michael Cameron, a board-certified behavior analyst and chief Scientific Officer at Early Steps Pediatrics Group, introduces the concept of Knowledge Management for Autism. He emphasizes the power of Humanistic AI and its potential to connect professionals, parents, and individuals worldwide. Dr. Cameron is dedicated to supporting families and individuals with autism by providing them with the right support from the outset through early intervention and technology-enabled Knowledge Management Systems. Discover his vision for a brighter future for autism support.
For cancellations and refunds, please see our policy HERE.
No reviews yet!
For adding a review for this product you need to purchase current product and be authorized.