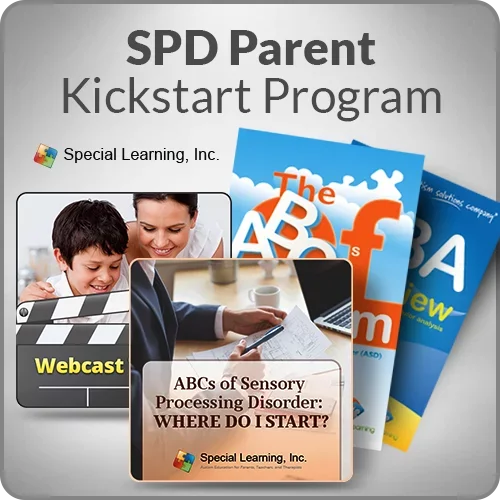 SPD Parent Kickstart Program

You could be the first person to provide your opinion.
Purchase now & provide your feedback on this product and receive a $25 store credit!

Has your child recently been diagnosed with Sensory Processing Disorder (SPD) or shows signs of SPD but has not been diagnosed -has difficulties with noises, smells, the feel of particular clothing, sensory seeker/avoider, etc.? Have you been looking for reputable resources to help you and your child, but only find information about Autism, and think this information cannot help your child with Sensory Processing Disorder? Whether you're early in the SPD or Autism journey or have been grappling with this for many years, you may have felt hopeless and guilty about being unable to help your child. However, as a parent, you are in the best position to help your child become better, but you need the right tools to get there.
We've created our SPD Parent Kickstart Program to help you begin the progress through your SPD Journey. Our comprehensive program includes materials and actionable tools to help you address the most common problem areas that you encounter daily. First, we use a combination of our eBooks and Videos, for you to gain an understanding of Sensory Processing Disorder and autism to get a good picture of what this all means to you and your child. Once you understand your child's major deficits –sensory issues (seeker/avoider), behavior, language & communication, social skills, life, and adaptive skills, among others - you can move onto learning about how to use Applied Behavior Analysis (ABA), an effective, evidence-based behavioral intervention for kids with sensory disorders and/or Autism Spectrum Disorder to begin to address these deficits immediately. Research has proven that with early, intensive intervention, kids with ASD can achieve 47% success in mainstreaming and that ABA is a great approach for those with SPD too. What greater hope can you ask for than to know that you can provide your child with a great chance of living a fulfilling and independent life?
With our recorded webinar, Sensory Processing Disorder training, you will begin to understand your child's sensory issues and how to begin to address them. With our Methods of Preventing Challenging Behaviors webinar, you will learn the basics of how to address problem behaviors (i.e. meltdowns) before they get out of control. With our Toilet Training video, you will learn how to teach your child this critical life skill.
This kit Includes:
ABCs of Sensory Processing Disorder: Where Do I Start? Webinar
ABA Overview: Introduction to Applied Behavior Analysis eBook
ABA Overview webinar
ABCs of Autism eBook
What is Autism? Webinar
Toilet Training 101: How to Get Started webinar
Methods of Preventing Challenging Behavior webinar
In order to help get you started, this program also includes 2 hours of live video consultation with one of our expert certified behavioral experts, Board Certified Assistant Behavior Analyst (BCaBA) or Board Certified Behavior Analyst (BCBA), with extensive experience (and success) helping children, adolescents and adults with Sensory Processing Disorder, autism, ADHD and other developmental disabilities.
Our SPD Parent Kickstart Program has been created to empower parents like you around the world to take control of your child's destiny. With information comes knowledge, with knowledge comes understanding and wisdom to take action. With our program, we arm you with the knowledge and tools that you need to successfully help your child progress through his/her Journey to Independence.
Notes:
The one year subscription period starts upon activation of your access code.
This product is valid for one licensed user only.
For cancellations and refunds, please see our policy HERE.
No reviews yet!
For adding a review for this product you need to purchase current product and be authorized.