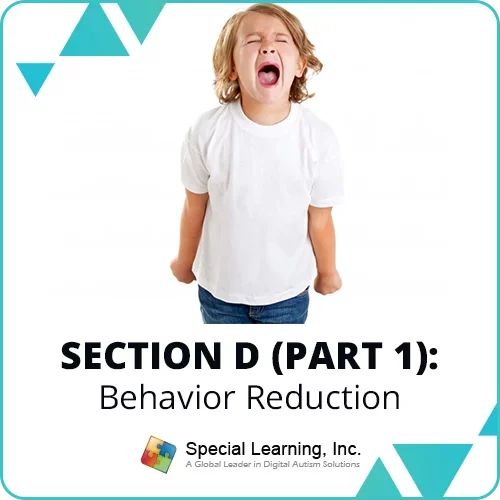 RBT® 2.0 40-hr Course Module-11: Section D.1- Behavior Reduction

You could be the first person to provide your opinion.
Purchase now & provide your feedback on this product and receive a $25 store credit!

RBT COURSEWORK 2.0
Learning Objectives:
Introduction to Problematic Behaviors
Acquire a deeper understanding of "why" someone behaves the way they do.
Identify the function of the behavior.
Learn strategies to utilize this approach in the real world in real-time
Identify the essential components of a Behavior Intervention Plan (BIP).
Session: 11 of 21
Each purchase corresponds to 1 user license/access. Only the user assigned to a subscription will be able to receive the recorded version.
Access to the recorded version is valid for 1 month.
MANDATORY DISCLAIMER:
This session is 1 class out of 21 classes for our RBT® 2.0 Online 40-hour Training Course and is based on the Registered Behavior Technician Task List 2nd Edition
This training program is based on the RBT Task List (2nd ed.) and is designed to meet the 40-hour training requirement for RBT certification. The program is offered independent of the BACB.
For cancellations and refunds, please see our policy HERE
No reviews yet!
For adding a review for this product you need to purchase current product and be authorized.