Psychopharmacology and Evidence-Based Practices [Clinical Applications Workshop] (Recorded)

You could be the first person to provide your opinion.
Purchase now & provide your feedback on this product and receive a $25 store credit!

LEVEL: Intermediate
CEU ELIGIBILITY:
1 BACB Type II Learning CEU
1 QABA General CEU
1 APA General CEU

One of the greatest challenges faced by providers and educators who attend professional development events is the ability to connect the dot from theory to practice. Because most courses are driven by content, learners rarely learn how to apply the knowledge to everyday practice.

As a provider of world-class professional development training for clinicians and educators around the globe, our webinars are designed with the ultimate goal of ensuring that consumers of our training programs are able to take the knowledge and immediately put it into practice. We accomplish this by incorporating practical scenarios and providing downloadable tools for every webinar that we conduct.

In the CE-eligible 50-minute (Post Webinar Clinical Applications Workshop), we took the practice portion of our webinars one step further by teaching attendees how to apply these tools in everyday practice. In our Clinical Applications Workshop, you will learn data collection procedures and programs/lesson plans that can enhance the effectiveness of skill-building, medication management, and collaboration across multidisciplinary teams.

Data Collection Procedures: Several data collection procedures will be discussed to support the efficacy of medication, collaboration with medical consultants and parents, and ongoing evaluation and adjustment. You will learn the following:

• Data collection procedures that can be implemented prior to starting a medication program;
• Ongoing data collection procedures to analyze the effectiveness of medication;
• Strategies to share data with other members of the treatment team to ensure alignment between stakeholders to maximize outcomes.

Programs and Lesson Plans: Additionally, several programs or lesson plans will be discussed that target skill building in social communication and social-emotional regulation. Core deficit areas exhibited by individuals with Autism include delays in social motivation, emotion regulation, and social communication and interaction skills. In this workshop, you will learn practical strategies that can help build your social communication and social-emotional regulation library.

WEBINAR DETAILS:
Broadcast Date: Wednesday, July 14, 2021
Presenter: Deborah P. Coehlo, PhD, C-PNP, PMHS, CFLE and Manya Ralkowski, EdS, BCBA, LBA, IBA
Each purchase corresponds to 1 user license/access. Only the user assigned to a subscription will be able to participate in the lives, receive the recorded version and obtain CEUs from the webinars.
Access to the recorded version is valid for 1 month.
MANDATORY DISCLAIMER: The Behavior Analyst Certification Board ("BACB") does not sponsor, approve or endorse Special Learning, the materials, information, or sessions identified herein.
For cancellations and refunds, please see our policy HERE.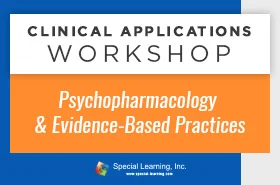 No reviews yet!
For adding a review for this product you need to purchase current product and be authorized.