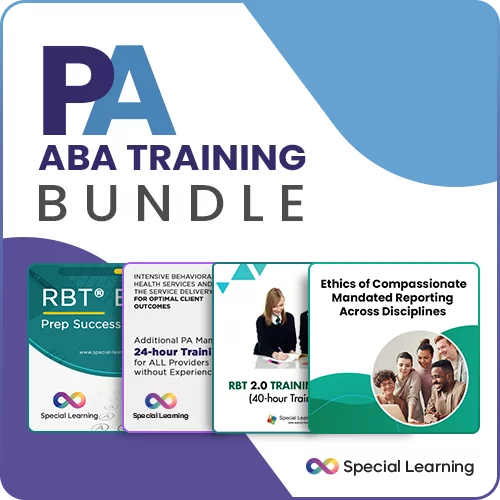 You could be the first person to provide your opinion.
Purchase now & provide your feedback on this product and receive a $25 store credit!

Full Training Package
This training package is design to provide help for practitioners that work as BCBAs, BHTs, Behavior Techs, RBT®s, etc. working with individuals with developmental, mental, and other disabilities (including ASD). Professionals who successfully complete this course will have satisfied the Pennsylvania-mandated training elements.
The training package includes:
PA (IBHS)- WITHIN 6 MONTHS- 24hrs
RBT 2.0 Online Training Course
Exam Prep- Simulation Exams & Test Banks
Compassionate Mandated Reporting Across Disciplines
Please Note: Professional Students may still be required to complete the following training with an approved provider to fully meet the PA requirements:
Requirement (11) an approved reactive strategy and restraint course in which the provider has hands-on training in the implementation of an approved restraint protocol/procedure
For cancellations and refunds, please see our policy HERE.
No reviews yet!
For adding a review for this product you need to purchase current product and be authorized.