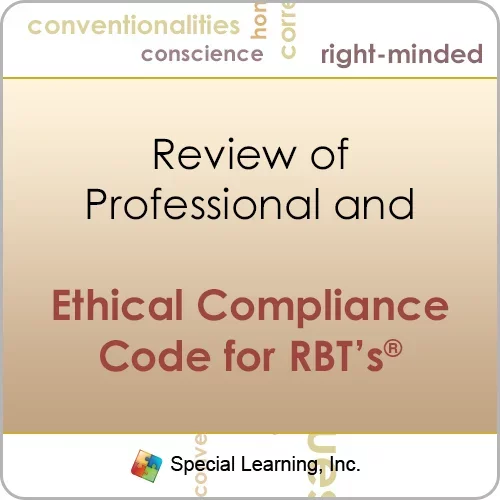 CEU: Ethics- Review of the Professional and Ethical Compliance Code for RBTs

You could be the first person to provide your opinion.
Purchase now & provide your feedback on this product and receive a $25 store credit!

BCBA CEUs: 2 Learning or Ethics
QABA CEUs: 2 General or Ethics
Description: The presenter for this event is Dr. Jon Bailey, PhD., BCBA-D. Dr. Bailey is considered to be the world's foremost expert on the subject of Ethics in the field of Behavior Analysis. In addition to participating in the creation of the Compliance Code, he is a co-author of Ethics for Behavior Analysts, a book that is used to teach Ethics to aspiring BCBAs around the world. The "Review of Professional and Ethical Compliance Code for RBTs," Dr. Bailey provided a high-level review of all 10 sections of the new Compliance Code, which went into effect in January 2016. A significant remaining portion of the training will delve deeper into the specific areas of the code that pertain to RBTs.This training also incorporated Dr. Bailey's review of real ethical scenarios submitted by RBTs across the world to drive a greater understanding of how to deal with everyday ethical situations.
Learning Outcomes:
Participants will review the 10 areas of the Professional and Ethical Compliance Code for Behavior Analysts.
Participants will understand which areas of the compliance code pertain to RBTs.
Participants will understand the importance of Ethics to the field of Behavior Analysis.
Participants will know the reasons behind the BACB's decision to move to the new Professional and Ethical Compliance Code for Behavior Analysts.
Participants will have an initial understanding of supervisee requirements for RBTs.
Participants will know how to incorporate ethics into their everyday decision-making.
TIMELINE: This course, on its own has a license for active use for 30-days unless it is purchased as part of a bundle/library.
MANDATORY DISCLAIMER: The Behavior Analyst Certification Board ("BACB") does not sponsor, approve, or endorse Special Learning, the materials, information, or sessions identified herein.
NOTE: CEs claimed on any training completed can only be claimed once. If you repeat training you've already claimed CEs on, you won't be able to claim the CEs again. Please ensure you have not already completed and claimed the CEs for the training module before purchase. Want to customize your training? You can build your own CE library. See our main page!. For cancellations and refunds, please see our policy.
No reviews yet!
For adding a review for this product you need to purchase current product and be authorized.