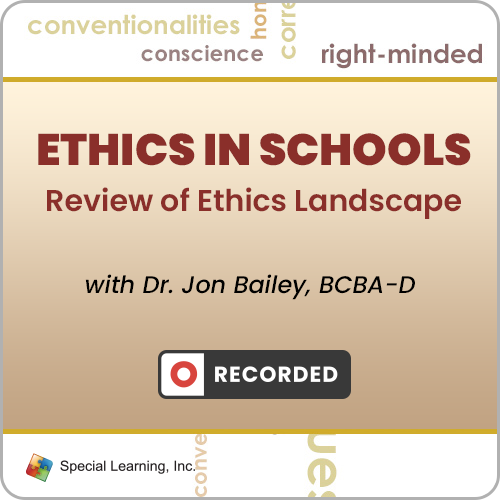 Ethics in Schools: Review of Ethics Landscape with Dr. Jon Bailey, BCBA-D (Recorded)
LEVEL: Advanced
CEU ELIGIBILITY:
2 BACB Learning or Ethics CEU
2 QABA Ethics or General (Included with purchase)
BCBAs working in school systems face unique, often significant challenges as compared to their counterparts working in private sectors. As school systems operate under different sets of assumptions, standards, and expectations, BCBAs often find themselves trapped in situations of conflict as they try to balance their responsibility for meeting student outcomes and expectations of the school system, while avoiding violation of the BACB ethics code.
With our Ethics in School Systems webinar with Dr. Jon Bailey, BCBA-D the world's foremost expert on the topic of Ethics in the field of behavior analysis, we had examined the challenges commonly faced by BCBAs working in school systems. By analyzing case scenarios submitted by BCBAs working in or consulting with schools, Dr. Bailey, along with our expert panelists from around the world, discussed the ways to practically and ethically resolve these areas of conflict.
NOTE: CE's claimed on any training completed can only be claimed once. If you repeat training you've already claimed CEs on, you won't be able to claim the CEs again. Please ensure you have not already completed and claimed the CEs for the training module before purchase. Want to customize your training? You can build your own CE library HERE
Each purchase corresponds to 1 user license/access. Only the user assigned to a subscription will be able to access the training and obtain CEUs from the webinars.
License/Access code can be activated within 3 months from the time of purchase.
You have 30 days to access the webcast from the date you activated your access code.
MANDATORY DISCLAIMER: The Behavior Analyst Certification Board ("BACB") does not sponsor, approve or endorse Special Learning, the materials, information, or sessions identified herein.
For cancellations and refunds, please see our policy HERE
No reviews yet!
For adding a review for this product you need to purchase current product and be authorized.