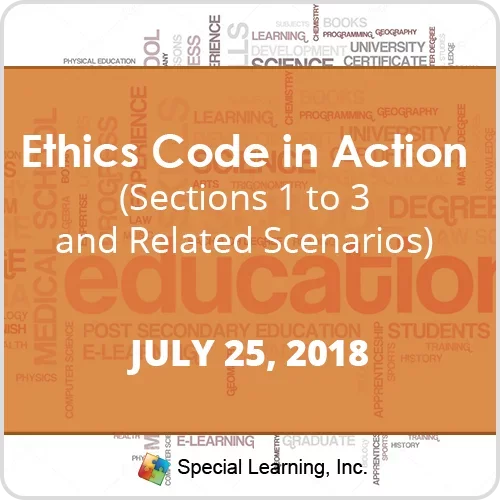 CEU: Ethics Code in Action: Sections 1.0 to 3.0 Ethics of Fraudulent Billing

You could be the first person to provide your opinion.
Purchase now & provide your feedback on this product and receive a $25 store credit!

BCBA CEUs: 2 Learning or Ethics
QABA CEUs: 2 General or Ethics
In this webinar, we explored in detail code sections 1.0, 2.0, and 3.0 of the Ethics Code. In Code 1.0, we took an in-depth look at the meanings behind Boundaries of Competence, Integrity, and Conflicts of Interest, three common areas of ethical conflict. In Code 2.0, we explored a Behavior Analyst's responsibility to clients, which include, but are not limited to, Confidentiality, Treatment Efficacy, Financial Arrangements, Accuracy in Billing, and Discontinuation of Services. In Code 3.0, we will explore Assessment, consent regarding Assessment, and Consent regarding Client Records.
Learning Outcomes:
Participants will learn to distinguish between "ethics" and "morals" and how it pertains to individual practitioners, service providers, and organizations that provide oversight of the profession.
Participants will understand the purpose and meaning behind Sections 1.0, 2.0, and 3.0 of the BACB Ethics Code.
Participants will learn about the history and consequences of the massive Medicaid fraud perpetuated by behavioral care agencies in South Florida.
Participants will understand the actions and resulting consequences of 4 behavioral care agencies under sanctions by Medicaid for billing fraud and other related billing issues.
Participants will understand the consequences of failing to report egregious ethics violations and their resulting impact on the client, professionals, and the field of behavior analysis.
Participants will understand the process of reporting violations to the BACB and their internal investigation process.
Participants will understand the differences in code violation impact for BCBAs and those organizations that employ or contract with BCBAs.
Presenter: Dr. Jon Bailey, PhD., BCBA-D
TIMELINE: This course, on its own has a license for active use for 30 days unless it is purchased as part of a bundle/library.
MANDATORY DISCLAIMER: The Behavior Analyst Certification Board ("BACB") does not sponsor, approve, or endorse Special Learning, the materials, information, or sessions identified herein.
NOTE: CEs claimed on any training completed can only be claimed once. If you repeat training you've already claimed CEs on, you won't be able to claim the CEs again. Please ensure you have not already completed and claimed the CEs for the training module before purchase. Want to customize your training? You can build your own CE library HERE. See our main page! For cancellations and refunds, please see our return policy.
No reviews yet!
For adding a review for this product you need to purchase current product and be authorized.