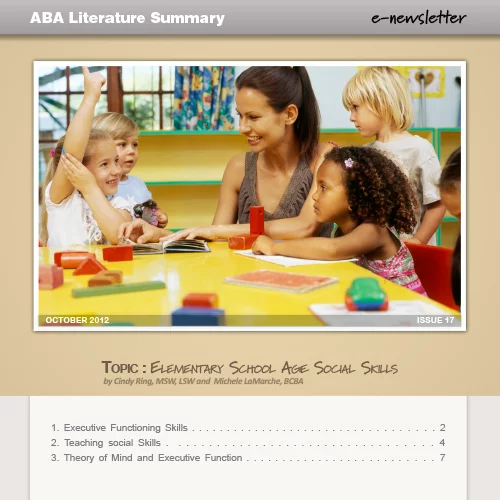 Elementary School Age Social Skills - ABA Literature Summary
LEVEL: Advanced
This Literature Summary is eligible for 1 BACB Type II CEU.
This issue of Special Learning's ABA Literature Summary has been written to address the deficit of social skills in elementary-aged children. We have summarized research on how teaching social skills and executive function skills can enhance school-aged children's abilities to improve socialization with peers and make friends.

A large component of social skills and social behavior is executive functioning skills. Knowing how to take another's perspective, recognizing and hsaring emotions and emotional behavior. and joint attention are crucial components to being able to successfully interact with others. Learning how to teach these skills as part of a social skills intervention can enhance school aged children's ability to make friends and improve socialization with their peers.
The ABA Literature Summary is a monthly issued newsletter covering various topics that are helpful and informative to BCBAs, educators, and even parents who prefer advanced reading about topics on Applied Behavior Analysis (ABA) and autism spectrum disorder. Each article summary is well-researched from credible sources and written by licensed BCBAs and other industry experts. It contains the latest facts and updates about different subject matters of interest.

Special Learning ABA Literature Summaries are available on iBooks, Kindle, and in PDF downloadable format. For downloadable formats, instructions to access your book will be provided upon completion of your purchase.
Note: This product is DOWNLOADABLE ONLY. The purchase does not include hard copies.
For cancellations and refunds, please see our policy HERE
No reviews yet!
For adding a review for this product you need to purchase current product and be authorized.