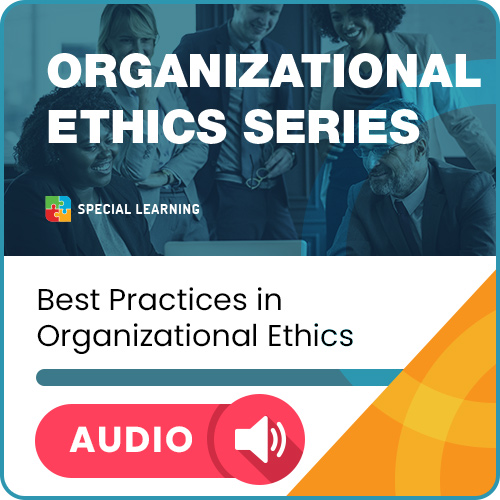 Audio Organizational Ethics & OBM Webinar Series-Module 5: Best Practices in Organizational Ethics
LEVEL: Advanced
CEU ELIGIBILITY:
2 BACB Learning or Ethics CEU
2 QABA General CEU
2 APA General CEU
Need to access CEUs but don't have the time to commit to watching computer-based webinars?
Special Learning has you covered with our webinar. Get access to great content in a convenient audio-only format. Now your CEU's can be just as "on the go" as you are!
Every day, decisions are made by organizations that impact the lives of people around the world. In the field of healthcare, some decisions have profound consequences. Organizations with strong ethical underpinnings, staffed with professionals who place equal importance on ethics, make decisions that place the well-being and care of their recipients above all else. Other organizations that pay little attention to ethics may make decisions that have the potential to profoundly and negatively impact the lives of those individuals under their care.
Most organizations fall somewhere in between.
The ethical conduct of both professionals who provide behavior analytic services and those organizations that employ them are critically important in the field of behavior analysis. Board Certified Behavior Analysts (BCBAs) are governed by the BACB's Professional and Ethical Compliance Code for Behavior Analysts. Unfortunately, organizations that employ BCBAs are not held to the same standard. In actuality, as yet, ABA agencies are not held to any ethical standards.
During the 5 years we've been conducting live ethics webinars with Dr. Jon Bailey, Ph.D., BCBA-D, the world-renowned expert on ethics in the field of behavior analysis, we have seen the evolution of the field and the resulting consequences of this evolution as it pertains to ethics. It has become clearly evident that the ethical dilemmas in which many BCBAs and RBTs find themselves are the result of decisions that are made by the organizations that employ them. How do you address this?
In our Organizational Ethics Series, we will explore this topic using a systems approach. The global autism ecosystem is comprised of many different parties, some of whom with conflicting agendas. And yet, in order to provide children, adolescents, and adults with the services they medically need, each member of the ecosystem must work together and do their part to fulfill their obligations. It is when members of this ecosystem fail to ethically discharge their obligations that things being to change -- for the worse.
Outcomes
1. Define key events that are shaping the field of behavior analysis.
2. List the impact of key events which contribute to the quality of ABA programs.
3. List how the BACB Ethics Code can be applied in organizational settings to improve the quality of client
outcomes.
4. Identify the impact of exit strategies and how it relates to the delivery and quality of services provided
to clients.
Last June 26, 2019, Special Learning hosted our 5th and final installment in the Organizational (OBM) Ethics Series with Dr. Jon Bailey, Ph.D., BCBA-D. We reviewed key components of Organizational Ethics and delved head-on into the best and ethical practices for organizations.
As with all our other Ethics webinars, we incorporated cases submitted by BCBAs and RBTs in the field to provide a deeper learning experience.
Presenter: Dr. Jon Bailey, BCBA-D
NOTE: CE's claimed on any training completed can only be claimed once. If you repeat training you've already claimed CEs on, you won't be able to claim the CEUs again. Please ensure you have not already completed and claimed the CEs for the training module before purchase. Want to customize your training? You can build your own CE library HERE.
Each purchase corresponds to 1 user license/access. Only the user assigned to a subscription will be able to access the training and obtain CEUs from the webinars.
License/Access code can be activated within 3 months from the time of purchase.
You have 30 days to access the webcast from the date you activated your access code.
MANDATORY DISCLAIMER: The Behavior Analyst Certification Board® ("BACB") does not sponsor, approve or endorse Special Learning, the materials, information, or sessions identified herein.
For cancellations and refunds, please see our policy HERE.
No reviews yet!
For adding a review for this product you need to purchase current product and be authorized.