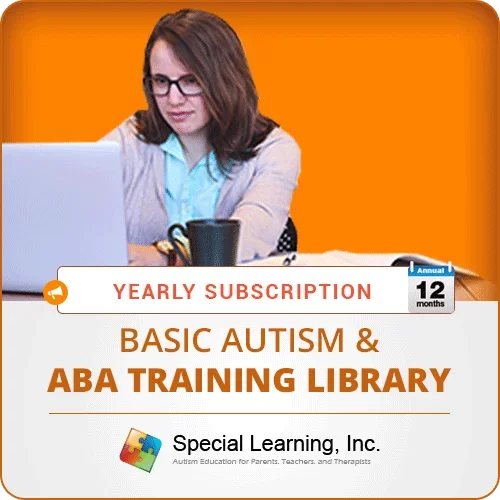 Level 1 Basic Autism and ABA Training Library (8 Modules)

You could be the first person to provide your opinion.
Purchase now & provide your feedback on this product and receive a $25 store credit!

Special Learning's Basic Autism and ABA Training Library Annual Subscription gives you annual access to the 8 individual training webcasts from our Level 1 ABA Online Training Course. The library format provides the flexibility to view any webcast topic in any order without having to complete the pre, post, and final exams such as in the Level 1 ABA Online Training Course.
Each session is 1.5 to 2 hours in length.
Webcast titles include:
ABA Overview
Methods of Teaching Overview
Pairing
Errorless Teaching and Prompting
Active Student Responding: Increasing Learner's Motivation and Self-Monitoring
Teaching Methods in Application
Decreasing Problem Behavior with an FBA: Part 1 - The Assessment
Strategies to Increase Beginner Classroom Participation Skills
Note: This product does not entitle the purchaser to any certificate of completion.
This product is not downloadable.
For cancellations and refunds, please see our policy HERE.
No reviews yet!
For adding a review for this product you need to purchase current product and be authorized.