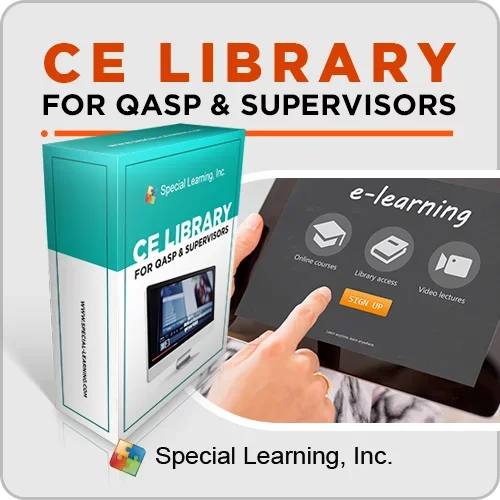 CE Library for QASP-S and QBAs

You could be the first person to provide your opinion.
Purchase now & provide your feedback on this product and receive a $25 store credit!

LEVEL: Advanced
CE: 22 QABA (includes general, supervision and ethics)
Behavior analysts lead challenging lives. If there's not enough time in a day to provide services and supervision, where do you find the time to continue to hone your skills and stay on top of new developments?
That's where we come in! With our CE Library for QASP and Supervisors, you can access exceptional content that allows you to meet 100% of your CE re-certification requirement from your office, home, or wherever you happen to be, easily and cost-effectively.
Our CE Library for QASP and Supervisors includes the following training:
The CE Library offers these benefits:
Meet 100% of QABA CE requirements in one library!
24x7 Unlimited access to all training webinars
Available on computer and mobile devices
100% CEU processing included
Digital CEU certificates are available immediately (upon demonstrating mastery)
Dedicated customer support team
Note: The one-year subscription period starts upon activation of your access code. This product is valid for one licensed user only.
Group pricing is available. We accept P.O.s.
Please be advised that this product is not downloadable.
For cancellations, please see our policy HERE.
No reviews yet!
For adding a review for this product you need to purchase current product and be authorized.