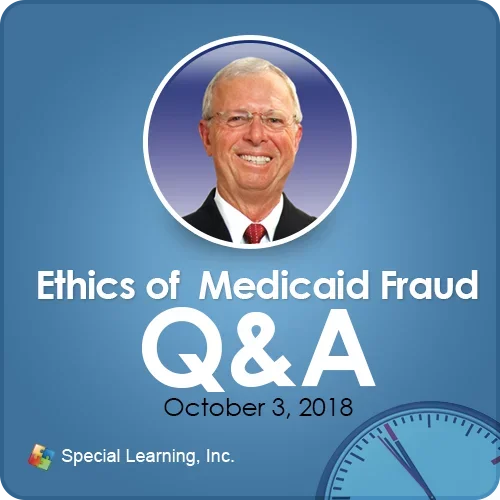 CEU: The Ethics of Medicaid Fraud: Scenarios and Q&A w/ Dr. Jon Bailey, BCBA-D

You could be the first person to provide your opinion.
Purchase now & provide your feedback on this product and receive a $25 store credit!

BCBA CEUs: 2 Learning or Ethics CEUs
QABA CEUs: 2 General or Ethics CEUs
Description: On August 22, 2018, with Dr. Jon Bailey, BCBA-D, and 3 exceptional panelists, we explored the topic of Ethics of Medicaid Fraud. In reviewing previous cases of Medicaid fraud, it was clear that for those agencies sanctioned by Medicaid in FL, and other behavioral agencies previously sanctioned - and even convicted - for healthcare fraud, ethics was either a non-consideration or just plain "thrown out the window." But what we also learned during that session is that there are many, many agencies with a strong commitment to ethics, at both professional and organizational levels, looking for direction on how to put systems and controls in place to avoid situations such as billing fraud and other health care fraud and abuse from occurring at all.
Presenter: Dr. Jon Bailey, BCBA-D
TIMELINE: This course, on its own has a license for active use for 30-days unless it is purchased as part of a bundle/library.
MANDATORY DISCLAIMER: The Behavior Analyst Certification Board ("BACB") does not sponsor, approve, or endorse Special Learning, the materials, information, or sessions identified herein.
NOTE: CEs claimed on any training completed can only be claimed once. If you repeat training you've already claimed CEs on, you won't be able to claim the CEs again. Please ensure you have not already completed and claimed the CEs for the training module before purchase. Want to customize your training? You can build your own CE library. See our main page!. For cancellations and refunds, please see our policy.
No reviews yet!
For adding a review for this product you need to purchase current product and be authorized.