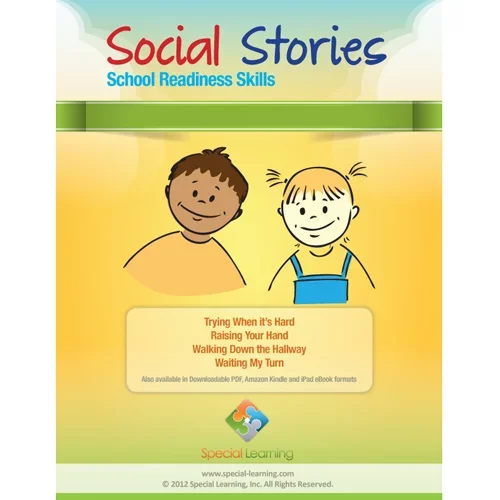 School Readiness Skills Bundle

You could be the first person to provide your opinion.
Purchase now & provide your feedback on this product and receive a $25 store credit!

Prepare your child to handle basic social situations presented in a school setting with the Special Learning downloadable social stories bundle: School Readiness Skills. This special downloadable bundle, designed for students with autism spectrum disorder (ASD), is a set of short illustrated books, based on the concept created by Carol Grey.

With their colorful illustrations and simplified text, social stories help teach individuals, affected by ASD, the specific social "rules" or "norms" that are generally accepted in society. By offering repetitive examples, these stories help individuals with ASD understand how to respond and learn to communicate effectively.

Titles include:
Trying When it's Hard
Walking Down the Hallway
Raising My Hand
Waiting My Turn
Using a Tissue

Each title includes a:
Full page colored book: 8 ½ x 11
Full page black and white coloring book: 8 ½ x 11
¼ page "Rule Card"
Each downloadable book is coded by skill(s) and age to help you determine the most appropriate set to use for your own child.
Note: This product is DOWNLOADABLE ONLY. The purchase does not include hard copies.
For cancellations and refunds, please see our policy HERE
No reviews yet!
For adding a review for this product you need to purchase current product and be authorized.