CEU: Psychopharmacology - Module 6: Ethics of Medication

You could be the first person to provide your opinion.
Purchase now & provide your feedback on this product and receive a $25 store credit!

BCBA CEUs: 2 Type II Learning
QABA CEUs: 2 General
APA/CESA: 2 General (Home Study)
In our webinar on Psychopharmacology and the Ethics of Medication, we focused on the ethical dilemmas facing families and providers when considering psychotropic medications for children. We reviewed the four ethical principles, including respect for autonomy, beneficence, non-maleficence, and justice, and how these principles apply to using psychotropic medications with children.
Presenters: Ronald T. Brown, Ph.D., ABPP, and Deborah P. Coehlo, Ph.D., C-PNP, PMHS, CFLE
Panelist: Manya Ralkowski, EdS, BCBA, LBA, IBA
Learning Objectives:
1. Review the reasons for more children being prescribed psychotropic medications in the US, including increased diagnosis of treatable conditions, increased access to safe medications, and increased trauma-related disorders in children.
2. Explore and discuss the four ethical principles and how they apply to prescribing psychotropic medications in children.
3. Evaluate societal and cultural factors that may influence whether medications are used to treat mental health disorders in children.
4. Analyze concerns regarding the use of psychotropic medications in children, including over-prescribing, failure to consider behavioral approaches when indicated, polypharmacy, and inappropriate use of "off-label" medications.
5. Apply knowledge to specific case studies including assessment, diagnosis, treatment, and evaluation of outcomes.
6. Examine approaches used to discuss ethical principles related to prescribing medications to parents of children with mental health disorders.
TIMELINE: This course, on its own has a license for active use for 30 days unless it is purchased as part of a bundle/library.
MANDATORY DISCLAIMER: The Behavior Analyst Certification Board ("BACB") does not sponsor, approve, or endorse Special Learning, the materials, information, or sessions identified herein.
NOTE: CEs claimed on any training completed can only be claimed once. If you repeat training you've already claimed CEs on, you won't be able to claim the CEs again. Please ensure you have not already completed and claimed the CEs for the training module before purchase. Want to customize your training? You can build your own CE library HERE. For cancellations and refunds, please see our return policy.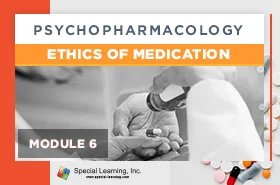 No reviews yet!
For adding a review for this product you need to purchase current product and be authorized.