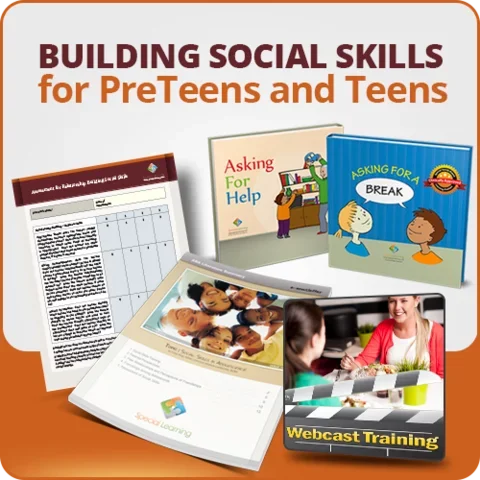 Building Social Skills for PreTeens and Teens Bundle

You could be the first person to provide your opinion.
Purchase now & provide your feedback on this product and receive a $25 store credit!

As our children grow into adolescence and the teenage years, the social skills required to be independent begin to change and the challenges associated with these social skills may become overwhelming for the parents/caregivers, educators, professionals, and the individual themselves. The Building Social Skills for Pre-teens and Teens Bundle is a comprehensive solution to address common areas that have been identified through evidenced-based literature and practices (like Applied Behavior Analysis) to increase age-appropriate social skills to lead to more independent lives. This bundle includes everything needed to begin the next phase of Social Skills for adolescents and adults with education/training, research literature, an assessment tool, and 2 social stories to gain an understanding while identifying common challenges faced by adolescents, learn several techniques to teach across settings (school, home, clinic, etc.), and 2 actionable tools to encourage learning of age-appropriate social skills.
Bundle inclusions (30-day access):
The expert recommended age for this bundle is an early learner (8-15 years), However, may be utilized with any learner.
For cancellations and refunds, please see our policy HERE.
No reviews yet!
For adding a review for this product you need to purchase current product and be authorized.