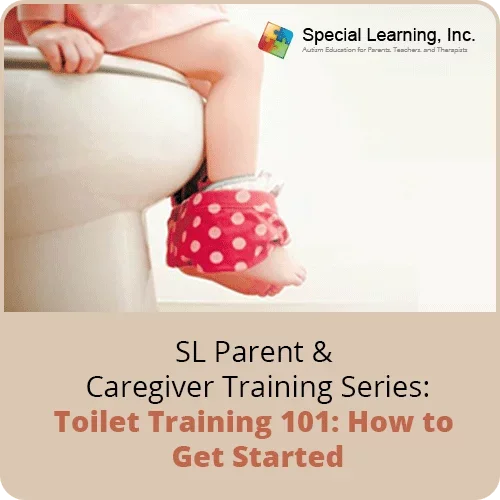 Parent Training: Toilet Training 101: How to Get Started

You could be the first person to provide your opinion.
Purchase now & provide your feedback on this product and receive a $25 store credit!

THIS IS NOT A CEU EVENT
Potty training…. Is there a more dreaded topic? Whether you're trying to potty train a child at home, preschool, school, or center, if you work with a child with autism or other special needs, it's likely that you'll be involved with toilet training in some form or fashion.
Do you feel overwhelmed? Don't be. Although it will take work, with the right plan, implemented with discipline and consistency, and lots of patience, you will be successful.
Special Learning is very excited to announce our new training series for parents and caregivers. Our Parent and Caregiver Training Series is very different from our other training courses. It was developed for people who need practical solutions to everyday problems but are short on time.
We kept the topics practical and short. Using our live webinar format, during the Q&A session, you will get a chance to ask our highly experienced BCBAs questions that matter to you. These trainings are only 60 minutes in length and designed to provide you with practical tips and techniques that you can implement immediately after our training sessions.
During this training, you will learn:
How to get started: How to create a simple plan, deciding a method, and gather supplies
Review common toileting methods
How to establish a "bathroom routine"
Key ABA techniques: how to create simple visual supports (visual schedule), how to use rewards (reinforcements), teaching a child how to request (manding)
How to establish a "bathroom routine;"
Focusing on the "long way" procedures for toilet training
For cancellations and refunds, please see our policy HERE.
No reviews yet!
For adding a review for this product you need to purchase current product and be authorized.