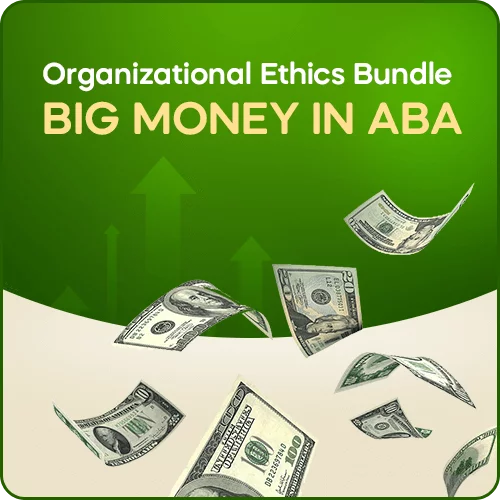 Bundle: Organizational Ethics - Big Money in ABA

You could be the first person to provide your opinion.
Purchase now & provide your feedback on this product and receive a $25 store credit!

ETHICS OF ABA ORGANIZATIONS: A HISTORICAL PERSPECTIVE

For as long as there have been healthcare companies and major funding sources available to foot the bills, there have been companies engaging in billing and healthcare fraud of one type or another. Dr. Jon Bailey and I started doing Ethics Webinars together in 2016. For each webinar, we asked BCBAs to submit questions/scenarios related to the topic we were planning on discussing. Initially, these ethical dilemmas centered around practitioner-based situations, but around 2017/2018, we started to see a shift as these ethical dilemmas became more organizational in nature. I remember a question from a BCBA wondering if the new company policy of mandating a minimum of 10 hours for each client - regardless of need - was ethical. Obviously, not, but this has become a pervasive and common practice these days. Except that the minimum number of hours appears to have increased...

In May 2018, due to the rampant billing fraud perpetuated by ABA Organizations in South Florida, Medicaid put a moratorium on accepting new ABA providers, essentially putting a halt on adding any new service providers. Additionally, they started an audit process for all current Medicaid providers, which severely impacted the ability of thousands of families to receive services. And probably put hundreds of smaller ABA organizations out of business.

With the Ethics of Medicaid Fraud webinar, we began our journey into investigating the dark world of healthcare fraud, which led to insight that PE firms were very aggressively entering our field. Which led me down a rabbit hole of tracking down these PE transactions and eventually, share my finding in the BIG Money: Who's Buying Who's Selling Webinar.

By and large, the biggest change that our field has experienced has been the impact of Private Equity coming into our field. With their cookie-cutter approach of buying as many businesses as possible, reducing costs through standardization and "operational efficiencies" with the goal of scaling up with the ultimate objective of selling to the highest bidder, our field has been severely damaged by business practices of these mega agencies. But there is still time to reverse the damage IF the people who make up the field of ABA come together to put back what's been broken.

This bundle provides a historical perspective on the changes that have been impacting the field of ABA. By understanding where we came from, we can develop industry-wide solutions to begin to reverse the damage caused by organizations focusing solely on financial metrics to taking a more blended approach that focuses on quality outcomes and maximizing enterprise value. Because part of being an ethical organization is to run a sustainable business. This means that a criterion of an Ethical ABA Organization is one that is profitable and can maintain profitability in spite of slight dips in market conditions.

These webinars will provide a historical perspective of what has happened in the field of ABA:

Ethics of Medicaid Fraud (2018)
Ethics of Medicaid Fraud: Q&A with Jon Bailey, PhD (2018)
Ethics of Private Equity in the field of ABA (2019)
BIG Money: Who's Buying Who's Selling (2020)
BIG Money: Review of the Data (2020)
Exit Strategies for ABA and Related Health Organizations (2020)
Intro to ESOP: An Alternative Exit Strategy (2020)
No reviews yet!
For adding a review for this product you need to purchase current product and be authorized.