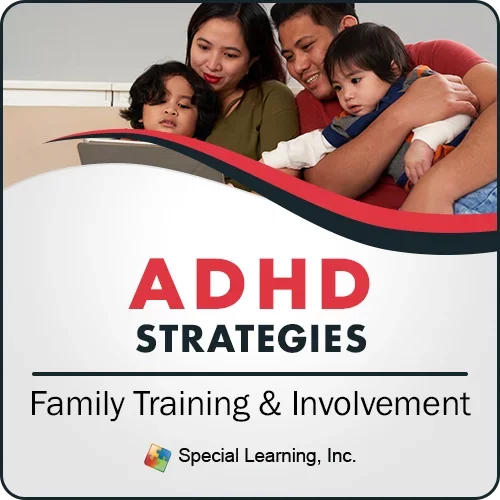 CEU: ADHD Strategies: Family Training and Involvement

You could be the first person to provide your opinion.
Purchase now & provide your feedback on this product and receive a $25 store credit!

BCBA CEUs: 2- Type II, BACB General
QABA CEUs: 2- General
APA/CESA: 2 General (Home Study)
Description: Many clinicians work with the Autism population. Oftentimes, we find that the person we work with has a dual diagnosis of ADHD. Providing a comprehensive approach to clients with ADHD including behavioral therapy and psychopharmacology in conjunction with a solid foundation in collaboration across the disciplines is key to client success. The next layer to successful independence for the individuals we serve is expanding the collaboration beyond professionals and incorporating families (and stakeholders) into the therapeutic process. One such way is through education and training.
Presenters: Dr. Ronald T. Brown; Dr. Debbie Coehlo, C-PNP, PMHS, CFLE; Dr. Mike Marroquin, BCBA-D
Learning Objectives
• Review signs and symptoms of Attention Deficit Disorder (ADHD)
• Identify when referral for services is appropriate for an individual with ADHD
• Demonstrate 2 evidenced-based behavior management strategies to use with individuals
diagnosed with ADHD.
• Describe the importance of family involvement in the management of ADHD in children and adolescents.
• Select 2 management strategies to utilize in clinic settings when treating ADHD.
• Describe evidence-based medications used to treat ADHD, including effectiveness and side effects.
• Describe educational information and tools to use when working with families with children with ADHD
TIMELINE: This course, on its own has a license for active use for 30-days unless it is purchased as part of a bundle/library.
MANDATORY DISCLAIMER: The Behavior Analyst Certification Board ("BACB") does not sponsor, approve, or endorse Special Learning, the materials, information, or sessions identified herein.
NOTE: CEs claimed on any training completed can only be claimed once. If you repeat training you've already claimed CEs on, you won't be able to claim the CEs again. Please ensure you have not already completed and claimed the CEs for the training module before purchase. Want to customize your training? You can build your own CE library. See our main page!. For cancellations and refunds, please see our policy.
No reviews yet!
For adding a review for this product you need to purchase current product and be authorized.