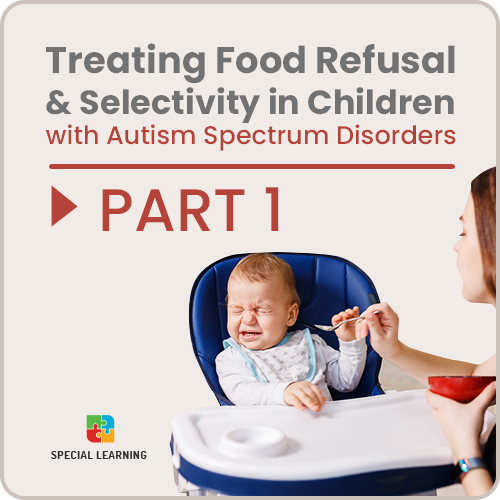 CEU: Treating Food Refusal & Selectivity- Part 1

You could be the first person to provide your opinion.
Purchase now & provide your feedback on this product and receive a $25 store credit!

BCBA CEUs: 1- Type II, BACB General
QABA CEUs: 1- General
APA/CESA: 1 General (Home Study)
Feeding problems in children with ASD are treatable. The behavior must first be assessed to determine the maintaining variables and potential reinforcers to increase food consumption. We will provide evidence-based interventions for treating food refusal and selectivity when manipulating antecedent-based interventions and simple reinforcement-based strategies alone are not effective in increasing food consumption. As with decreasing any challenging behavior, preference assessments are essential in determining effective reinforcers; a description of this procedure will be delivered. As we know, parents participate in the most meals with their children; a detailed review of the role of the parent in treating food refusal and selectivity in current research is provided. In addition, we will offer another review of the legal and ethical considerations around the treatment of feeding problems.
Learning Objectives:
Commonly used reinforcement-based behavior analytic procedures for treating food refusal and selectivity.
Successful behavior analytic treatment packages for treating food refusal and selectivity.
Legal and ethical considerations around the treatment of feeding problems.
Presenters: Christine Austin, BCaBA, and Michele LaMarche, BCBA
TIMELINE: This course, on its own has a license for active use for 30-days unless it is purchased as part of a bundle/library.
MANDATORY DISCLAIMER: The Behavior Analyst Certification Board ("BACB") does not sponsor, approve, or endorse Special Learning, the materials, information, or sessions identified herein.
NOTE: CEs claimed on any training completed can only be claimed once. If you repeat training you've already claimed CEs on, you won't be able to claim the CEs again. Please ensure you have not already completed and claimed the CEs for the training module before purchase. Want to customize your training? You can build your own CE library. See our main page!. For cancellations and refunds, please see our policy.
No reviews yet!
For adding a review for this product you need to purchase current product and be authorized.