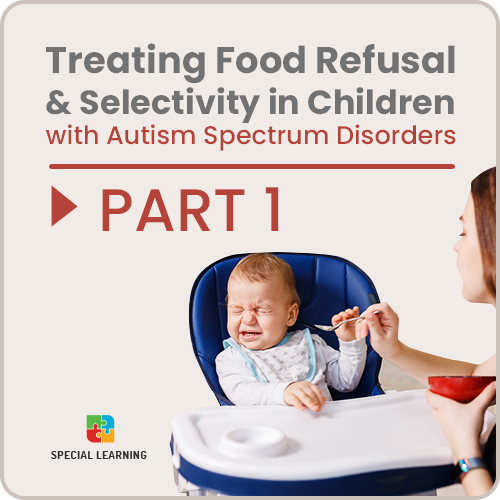 Treating Food Refusal & Selectivity in Children with Autism Spectrum Disorders: Part 1
LEVEL: Advanced
CEU ELIGIBILITY:
1 BACB Learning CEU
1 QABA General CEU
This recorded webcast provides an overview of the use of applied behavior analytic principles to assess and treat food refusal and selectivity.
Feeding problems are common in children, affecting those with developmental disabilities and medical conditions, as well as children who are typically developing (Laud, et al., 2009). Recent figures suggest the prevalence of feeding problems in children with ASD is as high as 90% (Volkert & Vaz, 2010). A child with feeding problems can cause stressors to his or her own health and ability to learn, in addition to causing stress on the family (making multiple meals, throwing away food, etc.) and impacting social opportunities (people socialize over meals).

Feeding problems in children with ASD are treatable. The behavior must first be assessed to determine the maintaining variables and potential reinforcers to increase food consumption. We will provide evidence-based interventions for treating food refusal and selectivity when manipulating antecedent-based interventions and simple reinforcement-based strategies alone are not effective in increasing food consumption. As with decreasing any challenging behavior, preference assessments are essential in determining effective reinforcers; a description of this procedure will be delivered. As we know, parents participate in the most meals with their children; a detailed review of the role of the parent in treating food refusal and selectivity in current research is provided. In addition, we will offer another review of the legal and ethical considerations around the treatment of feeding problems.
Upon completion of Treating Food Refusal & Selectivity in Children With Autism Spectrum Disorders: PART 1, participants will identify:
Commonly used reinforcement-based behavior analytic procedures for treating food refusal and selectivity.
Successful behavior analytic treatment packages for treating food refusal and selectivity.
Legal and ethical considerations around the treatment of feeding problems.
This event will total 70 minutes with a review of practice and methodology designed for teachers, paraprofessionals, BCaBAs, and BCBAs working with persons with autism and/or supervising direct treatment staff, and other professionals working with children with autism and related disorders.
Presented by: Christine Austin, BCaBA, and Michele LaMarche, BCBA
Upon completion of payment, confirmation of purchase will be sent to you together with the login details.
Please be advised that this product is not downloadable.
DISCLOSURE:
Financial - Presenters are employees of Step By Step, Special Learning's strategic partner. Presenters and researchers do not receive any financial compensation.
Non-Financial - No relevant non-financial relationships exist. Special Learning, publisher of products for SLPs, BCBAs, and other professionals, and Step By Step funded this training webcast.

NOTE: CE's claimed on any training completed can only be claimed once. If you repeat training you've already claimed CEs on, you won't be able to claim the CEUs again. Please ensure you have not already completed and claimed the CEs for the training module before purchase. Want to customize your training? You can build your own CE library HERE
For cancellations and refunds, please see our policy HERE

MANDATORY DISCLAIMER: The Behavior Analyst Certification Board ("BACB") does not sponsor, approve or endorse Special Learning, the materials, information, or sessions identified herein.
No reviews yet!
For adding a review for this product you need to purchase current product and be authorized.