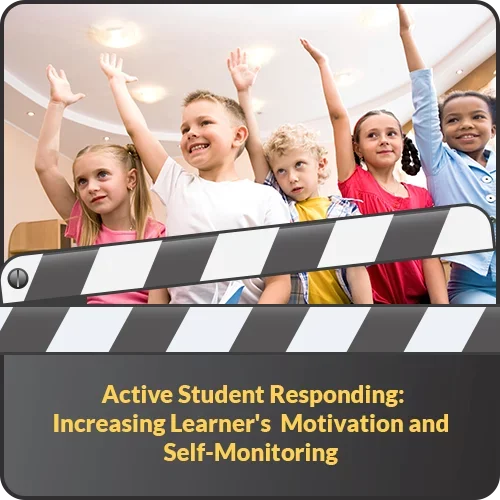 CEU: Active Student Responding: Learner Motivation & Self-Monitoring

You could be the first person to provide your opinion.
Purchase now & provide your feedback on this product and receive a $25 store credit!

BCBA CEUs: 2- Type II, BACB General
QABA CEUs: 2- General
APA/CESA: 2 General (Home Study)
This 2-hour webcast will provide a review of theory, practice, and methodology designed for teachers, paraprofessionals, BCaBAs and BCBAs working with persons with autism and/or supervising direct treatment staff, and other professionals working with adolescents and/or adults with autism, Asperger's and related disorders.
Description: How can we increase student motivation, buy-in, and responsibility for their own learning and still keep them engaged? According to studies, active student responding can increase student success and can allow students to become more engaged in their own learning as active participants. The idea behind active student responding is that students become responsible for their own learning by participating in activities on all levels and all students are equal participants in the learning activities, rather than just the student who is called on or raises his or her hand. This technique has been shown to be successful with students with disabilities as well as typical students (Lerner, 2011). There are many other interesting ways to enhance student participation using these techniques. Instructors are encouraged to be creative in thinking of ways to facilitate student participation and ownership of their learning. In addition to the actual techniques involved in active student responding, instructors should be familiar with the benefits of this teaching method and how this strategy increases learning and decreases problematic behavior.
Learning Objectives:
Upon completion, participants will:
Understand active student responding and how this technique enhances student learning.
Identify ways to use active student responding in an educational or learning setting.
Understand how to utilize active student responses with students both with and without disabilities.
Understand how active student responding can be used to lower rates of problem behavior in a group setting.
TIMELINE: This course, on its own has a license for active use for 30-days unless it is purchased as part of a bundle/library.
MANDATORY DISCLAIMER: The Behavior Analyst Certification Board ("BACB") does not sponsor, approve, or endorse Special Learning, the materials, information, or sessions identified herein.
NOTE: CEs claimed on any training completed can only be claimed once. If you repeat training you've already claimed CEs on, you won't be able to claim the CEs again. Please ensure you have not already completed and claimed the CEs for the training module before purchase. Want to customize your training? You can build your own CE library. See our main page!
For cancellations and refunds, please see our policy.
No reviews yet!
For adding a review for this product you need to purchase current product and be authorized.