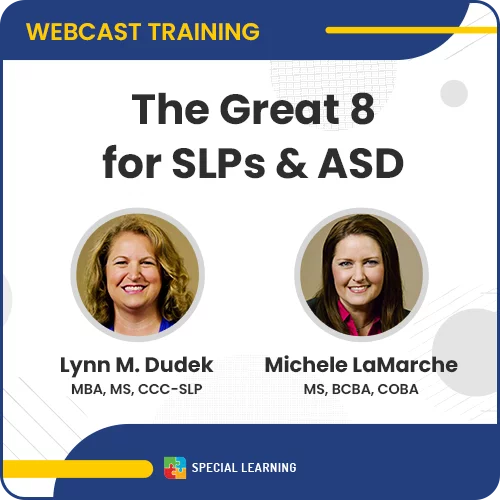 CEU: Speech & Language: The Great 8 for SLPs and ASD

You could be the first person to provide your opinion.
Purchase now & provide your feedback on this product and receive a $25 store credit!

BCBA CEUs: 2- Type II, BACB General
QABA CEUs: 2- General
APA/CESA: 2 General (Home Study)
This 120-minute recorded webcast will explore the topic area necessary for speech-language pathologists to possess in order to provide effective and evidence-based interventions for children with an autism spectrum disorder. To address the professional development needs specific to autism, speech-language pathologists must have knowledge and skills regarding (but not limited to): core characteristics of autism, working with families, screening, diagnosis, and assessment, evidence-based interventions, use of augmentative and alternative communication modalities, and collaboration (ASHA, 2006b). This presentation will address these specific areas by introducing audience participants to specific interventions and methodologies to increase their skills and knowledge in the area of ASD.
Learning Objectives: Particpants will...
1. List at least 6 areas of knowledge needed to provide intervention for an individual with ASD.
2. Discuss multiple tools for assessment.
3. Identify multiple resources for intervention supports both web-based and in print.

Note: To receive your CEU Certificate, you must pass the online quiz.
TIMELINE: This course, on its own has a license for active use for 30-days unless it is purchased as part of a bundle/library.
MANDATORY DISCLAIMER: The Behavior Analyst Certification Board ("BACB") does not sponsor, approve, or endorse Special Learning, the materials, information, or sessions identified herein.
NOTE: CEs claimed on any training completed can only be claimed once. If you repeat training you've already claimed CEs on, you won't be able to claim the CEs again. Please ensure you have not already completed and claimed the CEs for the training module before purchase. Want to customize your training? You can build your own CE library. See our main page!. For cancellations and refunds, please see our policy.
No reviews yet!
For adding a review for this product you need to purchase current product and be authorized.