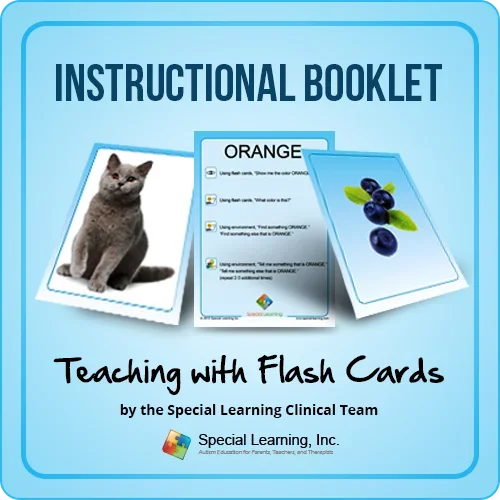 Teaching Early Language with Flash Cards Instructional Guide

You could be the first person to provide your opinion.
Purchase now & provide your feedback on this product and receive a $25 store credit!

Our 36-page Teaching Early Language with Flash Cards Instructional Guide is designed to teach your child or student a variety of specific, foundational skills he or she will use throughout a lifetime. These skills include things like identification and matching of items your child commonly sees in his or her environment, and teaching your child how to request items he or she wants.
This booklet contains 5 separate sections:
Getting Started: Intro to Basic ABA Principles and Strategies
Lesson 1: Matching
Lesson 2: Sorting
Lesson 3: Receptive Identification
Lesson 4: Expressive Labeling
Each Lesson section contains the following:
Importance of teaching specific skill
Prerequite skills
Keys to follow
How to conduct the lesson
How to individualize the lesson
Special Learning offers these flash card titles
Shapes
Numbers
Letters
Colors
Animals
Pets
Farm Animals
Jungle Animals
Aquatic Animals
Reptiles
Zoo Animals
No reviews yet!
For adding a review for this product you need to purchase current product and be authorized.