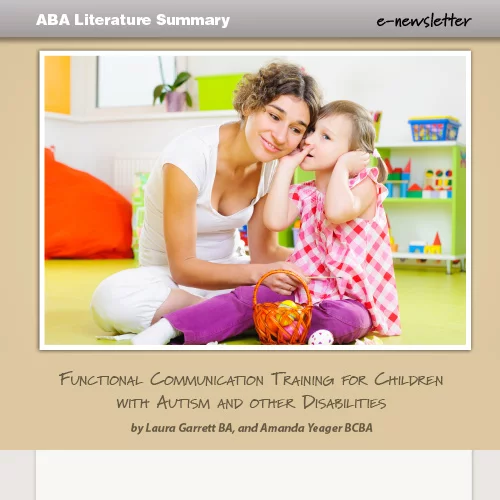 Functional Communication Training for Children with Autism and other Disabilities - ABA Literature Summary
LEVEL: Advanced
This Literature Summary is eligible for 1 BACB Learning CEU.
Identifying the function of and replacing inappropriate behaviors in children with autism spectrum disorders can be challenging. This issue of the ABA Literature Summary discusses how using Function Communication Training (FCT) methods have been effective in teaching children with autism appropriate replacement language. This issue reviews how these strategies can be implemented across all environments including the home, school, and community.
Each ABA Literature Summary compiles and summarizes research articles on specific and relevant topics for BCBAs, educators, and parents looking for advanced knowledge. Each article summary is well-researched from credible sources and written by licensed BCBAs and other industry experts.

Special Learning ABA Literature Summaries are available on iBooks, Kindle, and in PDF downloadable format. For downloadable formats, instructions to access your book will be provided upon completion of your purchase.
Note: This product is not DOWNLOADABLE. The purchase does not include hard copies.
To receive your CEU Certificate, you must pass the online quiz.
For cancellations and refunds, please see our policy HERE
No reviews yet!
For adding a review for this product you need to purchase current product and be authorized.