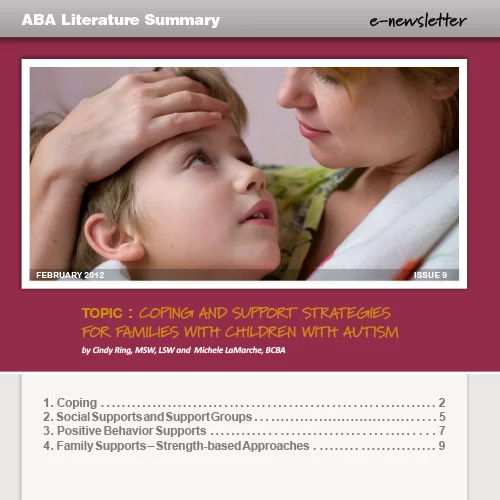 Coping and Support Strategies for Families with Children with Autism - ABA Literature Summary

You could be the first person to provide your opinion.
Purchase now & provide your feedback on this product and receive a $25 store credit!

LEVEL: Advanced
This Literature Summary is eligible for 1 BACB Type II CEU.
It is natural for a caretaker to experience stress when children are uncooperative. Children with Autism, who have differences in the brain that can make communication and relationships more difficult, can pose extra challenges. Special Learning's February 2012 ABA Literature Summary issue presents studies that explore the effectiveness of various coping and support strategies under the themes of Coping, Social Supports, Support Groups, Positive Behavior Supports, and Strengths-based Approaches.
Each ABA Literature Summary compiles and summarizes research articles on specific and relevant topics for BCBAs, educators, and parents looking for advanced knowledge. Each article summary is well-researched from credible sources and written by licensed BCBAs and other industry experts.

Special Learning ABA Literature Summaries are available on iBooks, Kindle, and in PDF downloadable format. For downloadable formats, instructions to access your book will be provided upon completion of your purchase.
Note: This product is not DOWNLOADABLE. The purchase does not include hard copies.
To receive your CEU Certificate, you must pass the online quiz.
For cancellations and refunds, please see our policy HERE
No reviews yet!
For adding a review for this product you need to purchase current product and be authorized.