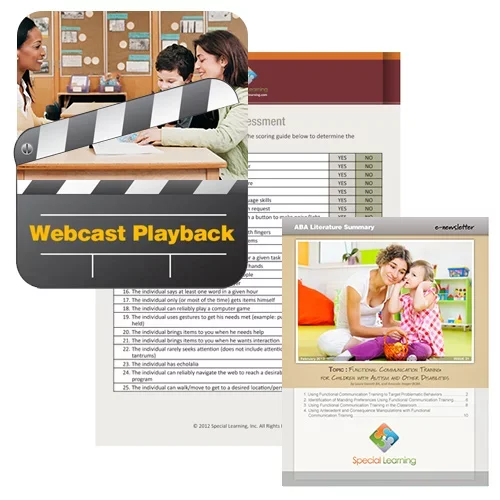 CEU + Printables: Building Basic Language Training Bundle

You could be the first person to provide your opinion.
Purchase now & provide your feedback on this product and receive a $25 store credit!

BCBA CEUs: 2- Type 2, BACB Continuing Education Units- General
QABA CEs: 2- General Continuing Education Units
APA/CESA: 2 General (Home Study)
Many challenging behaviors can be traced to poor communication skills; likewise, many communication deficits may be a result of difficult behaviors. Because language and communication skills are addressed by both BCBAs and Speech Professionals, the lines often become blurred. By learning about each discipline's history, scope of practice, and philosophies, Behavior Analysts and Speech Professionals can collaborate to achieve better outcomes for their students and clients.
Learn how to build language and communication skills in children with Autism or other developmental disabilities with our Building Basic Language Training Bundle. The bundle comes complete with the following:
2-Hour Training Webcast: SLPs and BCBAs: How Do We Make Collaboration Work?
Functional Communication Training for Children with Autism and other Disabilities- ABA Literature Summary
Communication Modality Assessment
Checkout Note: Please add this product to your cart as well as the 2 other products located at the bottom of the page in order to complete fulfillment of all products in the bundle. Thank you.
For cancellations and refunds, please see our policy HERE
No reviews yet!
For adding a review for this product you need to purchase current product and be authorized.