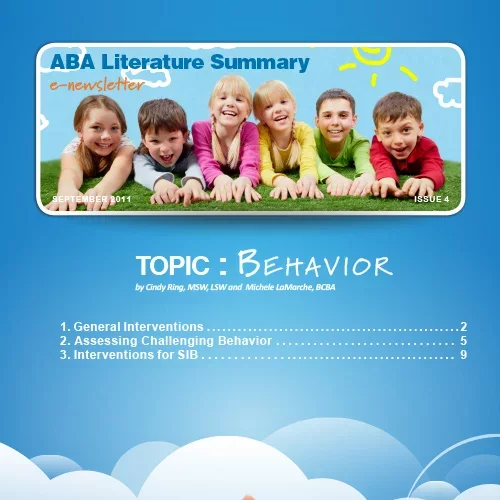 Behavior - ABA Literature Summary

You could be the first person to provide your opinion.
Purchase now & provide your feedback on this product and receive a $25 store credit!

This issue of our ABA Literature Summary talks about the topic of Behavior for individuals on the Autism spectrum. Learn more about general Interventions, Assessing Challenging Behavior, and Interventions for SIB.
The ABA Literature Summary is a monthly issued newsletter covering various topics that are helpful and informative to BCBAs, educators, and even parents who prefer advanced reading about topics on Applied Behavior Analysis (ABA) and autism spectrum disorder. Each article summary is well-researched from credible sources and written by licensed BCBAs and other industry experts. It contains the latest facts and updates about different subject matters of interest.

Special Learning ABA Literature Summaries are available on iBooks, Kindle, and in PDF downloadable format. For downloadable formats, instructions to access your book will be provided upon completion of your purchase.
Note: This product is DOWNLOADABLE ONLY. The purchase does not include hard copies.
For cancellations and refunds, please see our policy HERE
No reviews yet!
For adding a review for this product you need to purchase current product and be authorized.