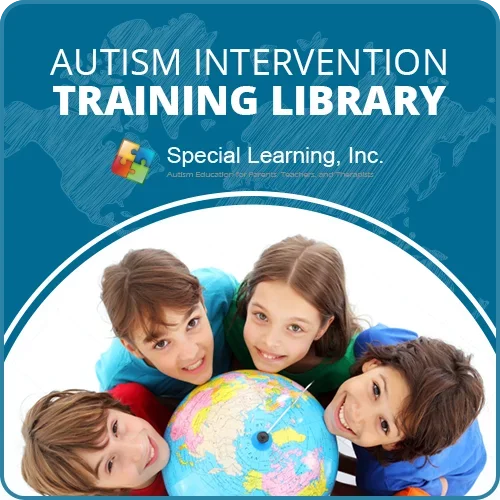 Autism Intervention Training Library: A Tool to Teach

You could be the first person to provide your opinion.
Purchase now & provide your feedback on this product and receive a $25 store credit!

Special Learning's Autism Intervention Training Library is a highly valuable, practical resource for parents, teachers, providers, and others who provide ABA therapy and education to children, adolescents, and adults with Autism and other developmental disabilities. This library contains over 120 short video clips that demonstrate how to implement various ABA programs and teach target skills. The library is broken into 3 main categories that teach:
(1) Effective Methods of Programming
Discrete trial training,
Natural Environment Teaching
Methods to improve communication (ex. requesting preferred items)
(2) Adaptive / Daily Living Skills
(3) Pre-Vocational Skills
Video modeling and video prompting have been proven to be effective tools to increase independent functioning, skills critical to enhancing the quality of life for those with special needs. Our easy-to-use videos use task analyses to break down target skills into discrete, individual tasks. Our video prompting videos provide a pause between each step before moving to the next step, allowing you to set the appropriate pace for individuals of all skill levels.
Click HERE to download the full list.
NOTE:
The one-year subscription period starts upon activation of your access code.
This product is valid for one licensed user only.
Group pricing is available. We accept P.O.s
Please be advised that this product is not downloadable.
For cancellations and refunds, please see our policy HERE.
No reviews yet!
For adding a review for this product you need to purchase current product and be authorized.